Back to News
Connecting Bristol's landmark residential tower to the city's district heat network
15th Mar 2019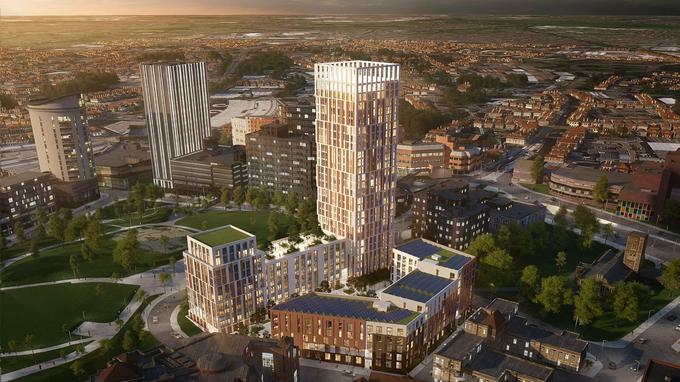 With construction underway, Hydrock is acting for Bouygues UK to deliver detailed M&E design on the much-anticipated Castle Park View residential development in Bristol.
Having provided a full suite of pre-planning services in 2017 to secure planning for Linkcity, our Building Performance Engineering team is now taking the M&E and services design through to completion.
Central to our building services work is the engineering design required to connect the 375-home development to Bristol City Council's district heat network. This represents the first commercial connection to the city council's heat network which currently connects more than 1,000 social housing properties, but until now has not included a connection to a privately developed site.
The energy strategy was developed in close liaison with Bristol City Council's Energy Team. A heat substation will provide on demand low energy and carbon heating and domestic hot water to the scheme.
The scheme will achieve a 55% carbon reduction over current Building Regulations, driven by a high performance building envelope coupled with efficient services. A solar photovoltaic array will provide additional onsite electricity generation helping to reduce residual carbon emissions still further.
Hydrock's work on the Castle Park View development also includes the acoustic design of the residential apartments.
Castle Park View is regenerating a brownfield site jointly owned by Bristol City Council and Homes England in a prime location on the south-eastern corner of Castle Park. It comprises a 26-storey tower and a 10-storey block which book-end the main build-to-rent building which fronts on to the park.
The 16,700 sq m development will see M&G Real Estate provide 300 build-to-rent apartments with 75 affordable apartments owned and managed by Yarlington Housing Group. Designed by architects, Chapman Taylor, the scheme also includes car/bicycle spaces and leisure facilities along with a 24/7 concierge reception.