A building as a power station
Bay Technology Centre
Port Talbot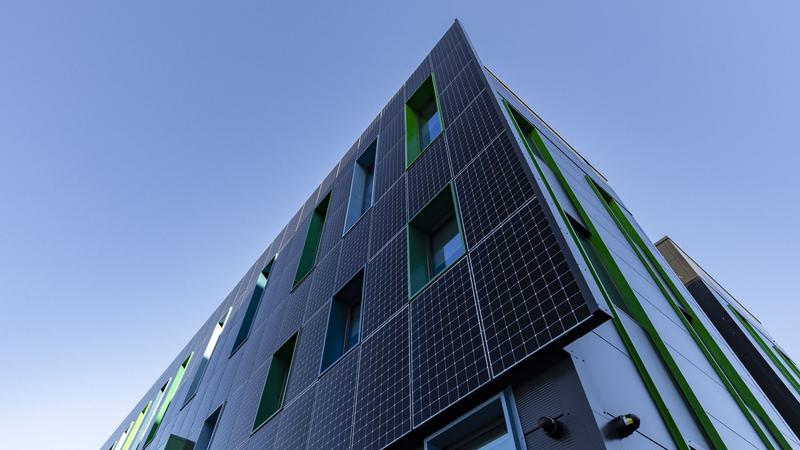 Energy positive
Generates more energy than it consumes
92%
Building fabric can be recycled
281%
Energy improvement over building regulations
With a clear mandate to go beyond net-zero, the Bay Technology Centre produces more energy than it consumes through digitally-led design and an innovative approach to renewable technologies.
A step change in building design. This state-of-the-art 2,500 sq m office and laboratory building, completed in 2022, goes beyond net-zero. It actually produces more energy than it consumes.
Proving a concept to deliver 'a building as a power station', Bay Technology Centre at Baglan Energy Park, Port Talbot is the first commercial facility in Wales to be energy positive in operation. Driven by Neath Port Talbot County Borough Council, this initiative fuels their Decarbonisation and Renewable Energy Strategy.
This impressive result is achieved through the innovative design and use of materials. This included specialist photovoltaic (PV) panels made to look like cladding, parametric modelling to influence the siting, and forensic modelling of energy use.
The Centre will achieve an energy performance ratio of 0.998, which is a 281% improvement over building regulations.
Acting as multi-disciplinary engineering designer, Hydrock collaborated with IBI Architects and main contractor Morgan Sindall to deliver this pathfinder project. In 2022, it won the Sustainability Award at the Insider Property Awards, Wales, and the Net Zero Award at the Constructing Excellence Wales awards.
"

By constructing this hybrid technology centre building of around 2,500 square metres of high-quality flexible office space in a strategic employment site, the project will support and encourage the growth of jobs in strategic sectors identified in the region (both start-ups and indigenous businesses), leading to growth in jobs and increased value for the region's economy.

"
Annette Wingrave
Councillor, Neath Port Talbot Council's Cabinet Member for Regeneration & Sustainable Development.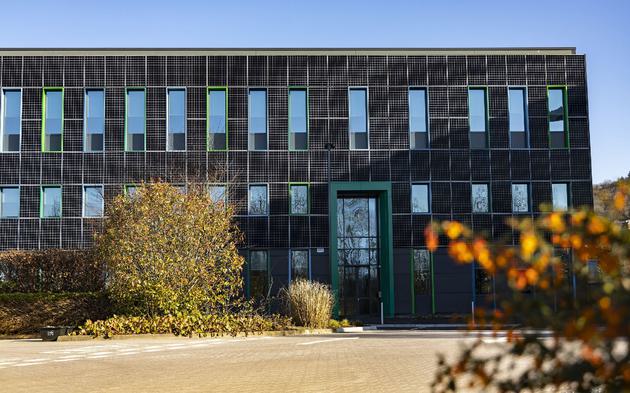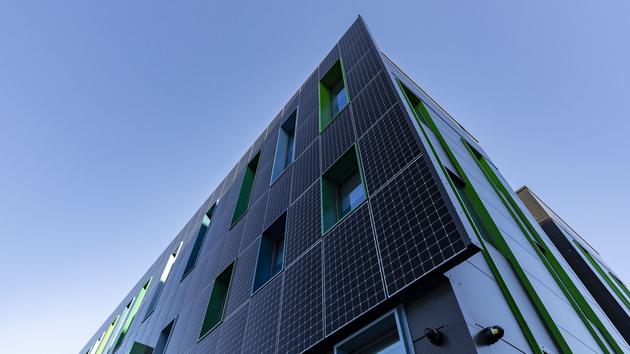 Adding value through energy simulation
Simulation of occupancy and equipment usage by our building services team was critical to the success of the design. By taking a forensic approach, we determined the predicted energy use and equivalent generation.
Our work included:
Complete passive design focused on the building fabric to make it airtight, optimising construction orientation and massing, and making the structure work with the systems.
Maximising efficiencies from technology such as a hybrid VRF heat and cooling and central air handling unit, with heat recovery, delivering fresh air via a demand control system, which reduces the fan running times.
Fine tuning the building management system so that non-essential equipment shuts down completely when not in use, and only low-level lights operate at night.
Encouraging a highly efficient mix of renewable and low carbon technologies, with particular emphasis on PV; maximising the roof coverage by ensuring all MEP equipment is housed inside and integrating PV modules into the facades that are most exposed to sunlight.
We established a baseline for operational energy consumption and fine-tuned the technologies and passive measures to evidence that the building will generate more energy than it consumes.

PV

on south & west façades
SUDS
Our site-wide design met the Schedule 3 SuDS regulations in Wales, including the design of a large attenuation basin to receive surface water flows.
From early design to post-occupancy
Our team delivered the engineering design from RIBA Stage 1, and oversee the post-occupancy evaluation as part of our specific energy modelling role.
The £8m, three-storey Bay Technology Centre provides high quality, flexible office and laboratory space for start-up companies in the fields of research and development, technology and innovation. As part of a collaborative design team, insights drawn from a body of work complied by research group, SOLCER (Smart Operation for a Low Carbon Energy Region), provided the spark to advance with conceptual theories through to practical implementation.

As part of our services design, we've developed an intricate energy metering strategy which maintains the efficiency of the performance of the building long-term. With over 400 meters and sensors in place, each individual area is monitored so that energy usage can be compared to the design stage model and divergence between assumptions and actual performance can be quickly investigated and dealt with.

In helping to create a digital twin, we remained an active presence in the project during construction. We supported Morgan Sindall and their sub-contractors through a seamless build process which maximised the benefits of a cloud-based platform that shared data with the full supply chain to minimise on-site disruptions.

The long-term ambition for this project is to deliver excess energy to the neighbouring Hydrogen Centre to produce clean hydrogen and power local authority vehicles.

Completed, the result is 'a building as a power station' – a real life model for future commercial developments.

Images courtesy of Morgan Sindall

A sustainable solution
Fossil fuel usage has been eliminated through a combination of passive design measures, based around building orientation, a hybrid VRF heat pump system, and the inclusion of façade mounted PV.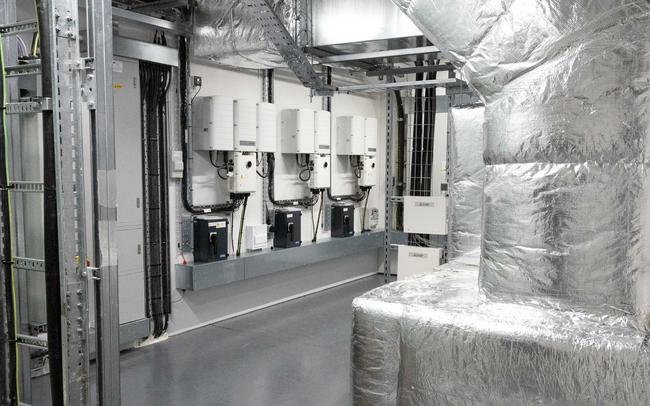 Related specialism
Structural Engineering
Our simple grid approach maximises internal spaces, creates flexibility for occupiers and enabled the project budget to focus on renewable technologies.

Got a project in mind?
Get in touch.