Mega distribution centre for Co-op
Symmetry Park, Bedfordshire
Clever site re-engineering retained materials on-site, minimising environmental impacts, to shape and create a base for a mega regional distribution hub for the Co-operative Group for their food retail business.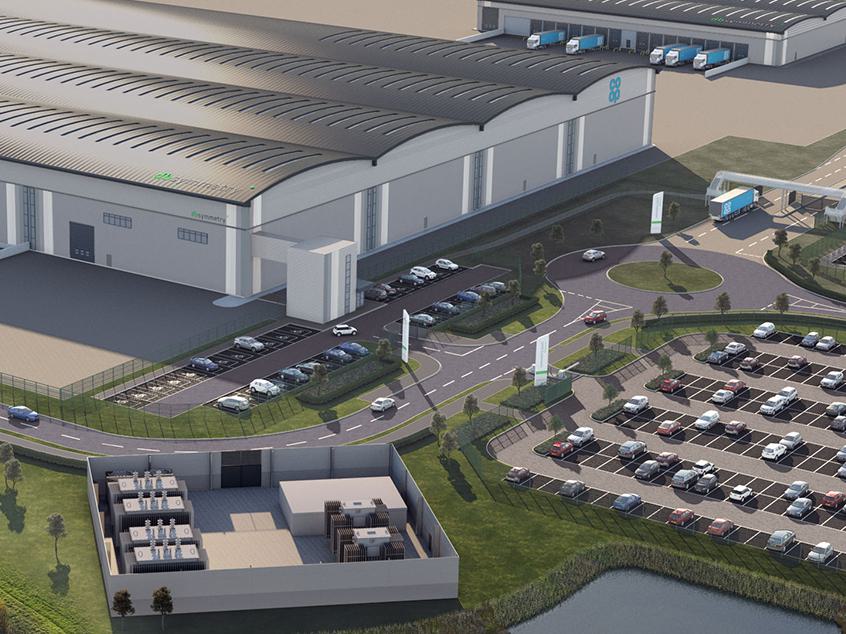 We provided civil and structural, geotechnical and geo-environmental engineering services for a new distribution centre and its associated infrastructure, for our client Tritax Group who pre-let the facility to the Co-operative Group Limited.
The £35m scheme at Symmetry Park, Biggleswade, just off the A1, has created 61,400 sq. m of logistics space for the Co-op for a new regional distribution centre to support its expanding food retail business.
Working collaboratively, our structural, civil and geotechnical teams conducted a thorough site investigation which allowed them to build a more detailed understanding of the site's ground profile and determine the best approach to earthworks and substructure designs. This addressed the two key challenges on the site; the presence of archaeology and the quantity of topsoil.
A previous site investigation had suggested that piled slab and foundations would offer a suitable solution to these challenges. However, our teams worked to determine that piles would be a problematic solution, due to costs and the impact on the archaeology.
Instead, we proposed a surcharging solution. Working in conjunction with the cut and fill strategy, ground levels were raised above the significant areas of archaeology, allowing it to remain in-situ without the need for expensive removal. The raising of levels allowed the extra material in these areas to surcharge the below material. Detailed geotechnical and structural calculations were carried out to determine ground settlements and prove they were within acceptable limits.
This solution led to a significant saving in construction programme and project costs.
The other major obstacle on-site was the quantity of topsoil. Our geotechnical and civil teams worked closely together and were able, through the cut and fill strategy and re-engineering of material, to keep significant amounts on site, which is a notable achievement when considering the number of external yards and car parking.
With a considered approach to navigating the archaeological background of the site, and the achievement of retaining large quantities of topsoil on site, we effectively overcame the significant challenges of developing this site for our client.
Got a project in mind?
Get in touch.