Designing one of Europe's largest single chilled distribution centres
Asda distribution and service centre, Rochdale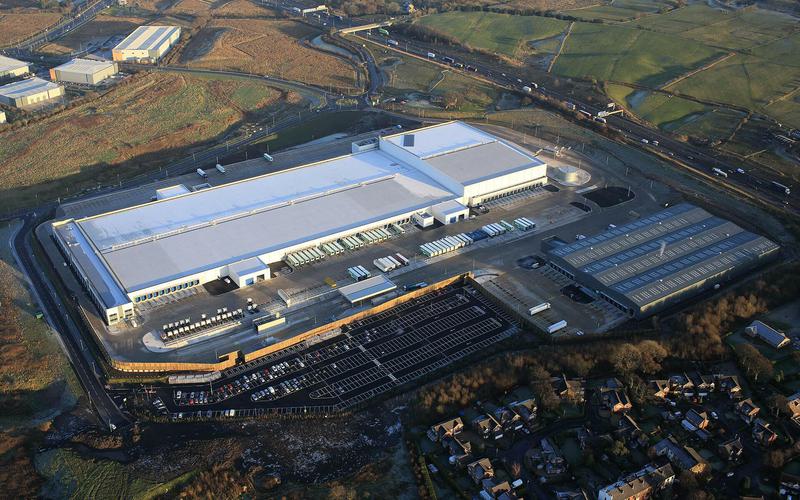 Future-proofing Asda's supply chain in the north-west, we designed a 62,000 sq. m mega-distribution centre to a highly efficient design to meet Asda's strong sustainability goals.
We delivered geotechnical, civil, structural and highways engineering services for the development of a 51,000 sq. m chilled and frozen food distribution centre, with a separate 11,000 sq. m service centre for recycling waste materials and tray washing. The centre for ASDA will serve stores across the north west.
Situated on a 44-acre site on the Kingsway Business Park in Rochdale, the development creates one of Europe's largest single chilled distribution centres and boasts excellent carbon and energy saving features.
Our key challenge in the design of this dual distribution and service centre was to develop an alternative solution to piling. The ground engineering design uses a combination of dynamic compaction and lime/cement stabilisation to achieve a cost-effective solution.
We also designed off-site infrastructure works, including the diversion of public sewers, three watercourses requiring Environment Agency consent, a new adopted access road and a United Utility sewer diversion to accommodate the development site and future plots.
Specific design and construction initiatives were implemented to create efficiency savings in order to meet Asda's challenging sustainability targets. These included collecting waste heat from the refrigeration plant to provide under-floor heating in the ancillary and office area, LED lighting to provide one of the lowest in class energy use densities for distribution buildings, photovoltaic cells for efficient electricity generation and a rainwater harvesting system.
Completed in just 40 weeks, the landmark centre has a highly productive design and outstanding environmental credentials, and has achieved a BREEAM rating of 'excellent'.
The development future-proofed Asda's supply chain in the region, enabling it to provide first-class logistics for its superstores and supermarkets. Handling up to three million cases of chilled and frozen food per week as well as other food products for the supermarket chain, the site initially serviced 49 Asda stores across the M62 corridor and has the capacity to support growth beyond 2030.
Got a project in mind?
Get in touch with us.