Back to Articles
Work space beyond Covid-19 – from B&B to luxury hotel?
26th May 2020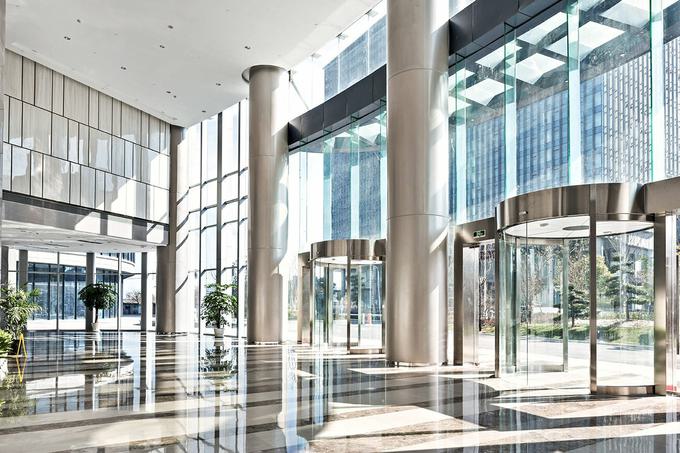 Eva Mills, Director at Hydrock, and Yasmin Al-Ani Spence, Director at WilkinsonEyre Architects – two senior women working in technical roles within the built environment – have worked together on high profile projects including the rapid transformation of aircraft hangars into a state-of-the-art R&D facility for Dyson. Since the outbreak of COVID-19, they've been meeting up virtually and recording their discussions as articles. Here, they explore how we can use this unexpected time to completely rethink the concept of office space.
There are those of you who don't like working at home, but we have grown to quite like it. We like working in a personalised and homely environment. It is inspiring being surrounded by the people and things that we love.
With less travel, work productivity has also increased and so has flexibility. It has been great seeing our children during the day which in the pre-virus world we rarely did during the working week.
But then something happened to Yasmin that made us re-think. She went to the office. She was only there for an hour but bumped into two colleagues. They were there for printing reasons, as it turns out not everyone has mastered the art of printing large plans at home. Everyone stayed apart and respected their two-metre personal zone, but it was still wonderful for them to see each other and catch-up. Yasmin and her colleagues managed to look at some material samples together in a way that is simply not possible on Zoom, and talked about various projects in a casual and enjoyable way.
As the duration of the virus lock-down grows longer, we suspect that more and more people are increasingly missing leaving home to go to work. Yes, we embrace and welcome this extra time spent as a family, but people miss people.
However good Zoom and cloud-based IT systems are, they cannot replace the human interaction. It is that ability to see workmates to discuss, bounce around ideas, plan or simply to communicate person to person that we all miss working at home. As people we need companionship to push us further, to inspire us and most importantly to support us.
Inspired workspace
When we do return to the office what lessons should we learn about creating inspired workspace? Well, we have already seen employers carrying out return to office surveys, taking the 'pulse' of staff to gauge experiences and inform next steps.
Early survey feedback confirms that many staff feel productive working from home and would like to continue doing so on a part-time basis. But the majority confirm that they miss the office environment to collaborate and socialise. With part-time home working likely to be more widely accepted by many more companies in the future, office space will need to respond and evolve.
We should strive to create better and more inspired office environments. As we embark on repurposing these spaces, of course we should continue to strive for lower energy usage, increased cleanliness, and more efficiency. But we should strive to raise the bar higher than that. After all, offices are where we spend most of our time during the week.
It is time to get creative. Perhaps we should look at hotels for inspiration. We are happy if not delighted to check into a beautiful hotel room. But we overlook that just a few hours ago a complete stranger had checked out from that same room, had slept in the same bed, and washed in that same en-suite. It is the concept of impersonal personal space. We are content staying in that hotel room if it is clean and ready for our visit, but it is not ours. Surely, we can do the same with our offices.
Do we really need to be hung-up on a particular desk being ours? Why have that level of ownership? Instead, why not adopt a more flexible check-in and check-out approach. Surely, a 100-person business, no longer needs 100 desks. Those days have passed.
More shared office spaces seem to be the likely way forward, and a lot more cost effective. Imagine upgrading office spaces from a fairly basic B&B level of expectation to a bespoke luxury hotel offering with spaces that promote a range of uses from quiet work to larger gatherings in a characterful and inspired setting.
Instead of a post occupancy evaluation where we ask users for feedback which inevitably includes features not liked and given that the building has just been completed are hard to address, why not adopt the opposite approach.
A pre-occupancy survey to help inform our future office design and make it respond to customer demands. Then, like a good hotel, we might delight in more amenities for our work to include access to a lounge, a bar, outdoor space, room service and good food. Like in a hotel, the number of visitors can be monitored and assigned the right space to suit their need on that particular visit.
With more home working, and a likely drive to lower business costs, we can make do with less personal desk space. Less space can work, but it is time to demand more so it is not just 'a' space but the 'right' space. That will fuel greater employee efficiency, drive economic output and improve business profitability. As we emerge from the virus crisis, the concept of tailor-made office space may just be the way forward.
This article was originally written by Yasmin Al-Ani Spence, Director at WilkinsonEyre Architects and Eva Mills, Director at Hydrock, and was published on LinkedIn.