Callum McMillan, Principal Engineer in our Civil and Structural team dispels the myths and misconceptions surrounding embodied carbon in building design.
We're living in a warming climate. If we're to reduce greenhouse gas emissions, reach our net zero goals and minimise long-term societal impacts from global warming, the built environment sector needs to transform every aspect of designing, retrofitting and using buildings.
So, when misconceptions persist on the impact that embodied carbon has in the design of buildings, we have a problem. It risks stifling change. In reality, procurement, planning, design and construction of buildings are all over-due a shake-up.
Championing low-carbon design has to be the way forward, so what's putting everyone off? Let's dispel those misconceptions and myths.
Misconception: Embodied carbon isn't significant compared to operational carbon
Reality: Not anymore, it's the bigger slice of the pie!
Carbon emissions from the built environment account for 40% of all emissions. That's far greater than the obvious culprits like cars and aviation.
Of that total, it's tempting to lay the blame entirely at our modern-era obsession with gas-fired boilers to heat our homes and workplaces which over the years has resulted in a significant volume of operational carbon emissions. However, as buildings have become more efficient in their use of energy in the 21st century, so the ratio of operational to embodied carbon has changed.
By the late 2020s, embodied carbon will make up c40% of the whole life carbon of a building, and that figure is set to rise further still.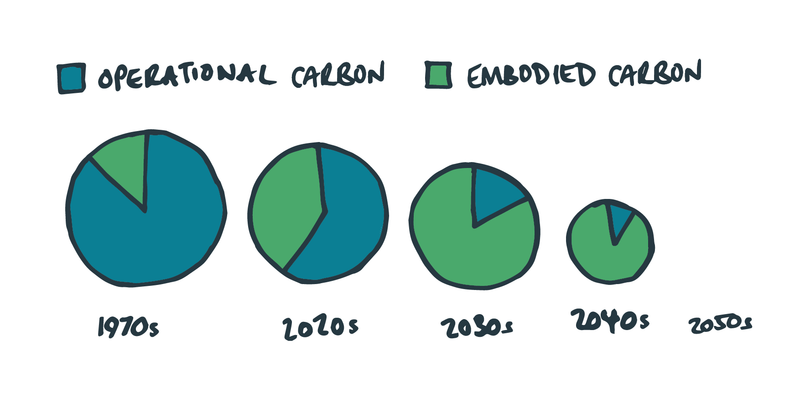 What's really important to note is that unlike the operational carbon, which is spread out over a building's life (potentially 50+ years), most of the embodied carbon is emitted practically from day zero. This means the impact is immediate and in the context of meeting our commitments to reach net zero goals, it is consequently far more relevant to find solutions to reduce embodied carbon as quickly as possible.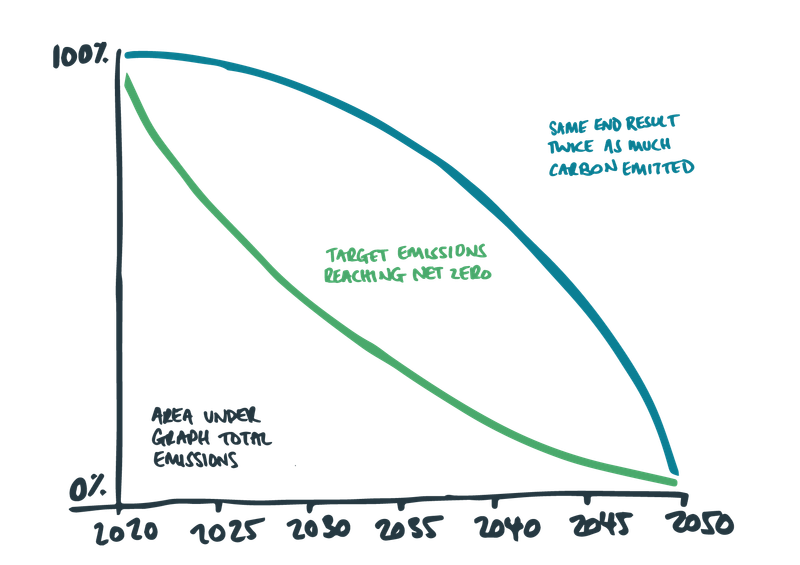 Misconception: Low embodied carbon buildings are expensive
Reality: Less material = less cost
The reasonable concern with anything that is specialist, or a bit different, is that it is going to cost more.
Fundamentally, reducing embodied carbon involves 'using less stuff' and using less typically costs less.

The Institution of Structural Engineers caught the mood as long ago as their 1987 report titled 'Aims of Structural Design'. It said: 'A good design has certain typical features, simplicity, unity and necessity. How magnificent the result if there is nothing in a structure but that which is necessary!'
In other words, a good structural engineering design aims to minimise material use, providing only what is necessary and avoiding over-design.
It takes know-how to make efficient use of materials, and there will be a design cost attached to that, but ultimately all roads on a low carbon journey lead to using less materials, and that leads to lower costs of construction.
Take as an example the below output generated by our computational engineering team. By comparing the embodied carbon and cost of hundreds of structural design concepts for any given project, each with different structural materials and grid layouts, we can see how a well thought out low-carbon structure can also be amongst the lowest cost options.
So, when cross-laminated timber (CLT) is discarded as a viable option due to the perceived uplift in material costs, structural engineers are naturally frustrated as the evidence suggests otherwise. They feel their audience has not taken into account the savings that are achieved in improved detailing, reduced finishes and an uplift in sales costs.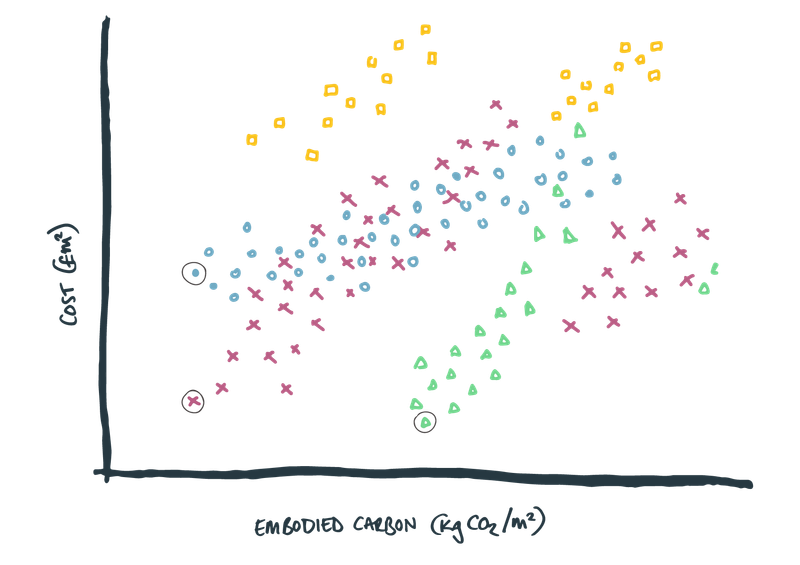 Misconception: Civil and structural engineers have no influence on low carbon design
Reality: Structural engineers can have a massive influence!
There is a broad range of highly impactful standards and frameworks deployed by architects and sustainability consultants to reduce carbon and create energy efficient buildings - from Passivhaus to BREEAM, to Part L regulations and so on.
Less focus though is placed on what the structural engineer can achieve. In fact, for a typical office building the structural engineer could assist with a 75% reduction ̽ in embodied carbon without any particularly innovative design or compromises to the overall design intent. For a commercial building, that might represent as much as 40% of the whole life carbon of a building, proving that engineers can demonstrably have a massive impact!
The key to enabling structural engineers to make this level of impact is getting them around the table at the beginning. By utilising engineering knowledge, parametric design and other tools, early engagement can challenge the design team to work together towards holistic net zero/low carbon goals.
̽ "How to achieve a SCORS A rating using current materials and technology" by Muirs Moynihan, The Structural Engineer, May 2022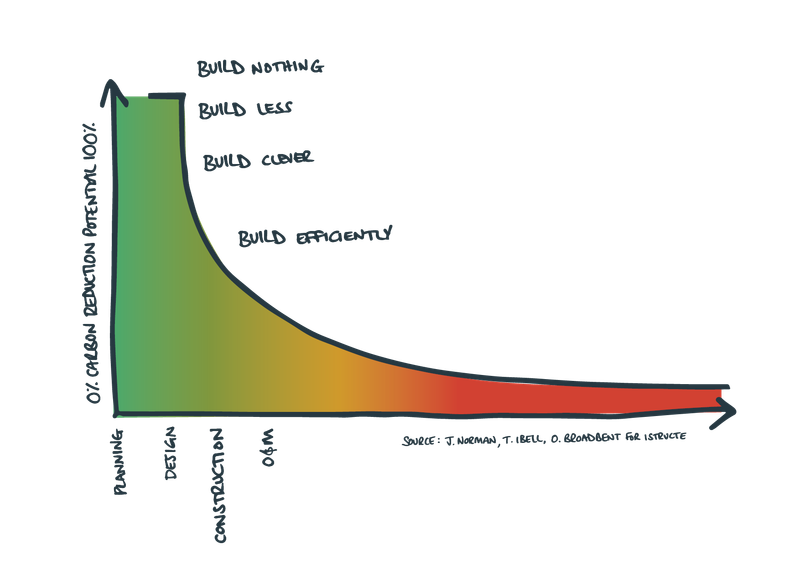 Misconception: Low embodied carbon buildings are too risky and uninsurable
Reality: Have a conversation!
The majority of low-carbon design is simply a progression of all that we have done before. It's about the efficient design of buildings, but with a new focus.
Minimising the volume of materials used; the careful coordination and detailing of finishes and exposed structural elements; use of timber, concrete additives and cement replacements; modular construction - ̶ these are all ideas that have existed for some time and are now a core part of the conversation for how they can be implemented to minimise the impacts on the environment.
Now, in addition, there are also many fantastic and innovative new approaches that have the potential to accelerate change even faster, for example mass timber for high-rise, cement-free concrete mixes, and circular economy urban mining. Like anything new and innovative, there is an element of risk.
To address the challenge of new ideas with insurance companies, just remember they are people too.
As responsible businesses and individual people, they care about the environment too and doing the right thing. The key is to establish early dialogue and get insurers around the table - yes literally - to discuss what is being proposed.
Don't be afraid to push back, negotiate, and educate to get what works best for the project.
Ref: https://builtbn.org/latest-posts/alliance-for-sustainable-building-products-receives-built-by-nature-accelerator-fund-grant-to-create-guidance-for-insuring-mass-timber-buildings%ef%bf%bc/
Misconception: Low embodied carbon is only for fancy houses and activists
Reality: 10 years ago, perhaps, but certainly not today
Hemp and straw grand designs might be the first thing you think of when imagining sustainable or eco construction, but it's not all about that.
It made for great TV, and indeed we can often rely on private individuals to be early adopters.
Championing low carbon design in the context of delivering commercially viable schemes is about leveraging experience in what works, what matches the customer's ESG and commercial goals and what meets societal needs and respects its impact on the environment.
From BREEAM Excellent and operationally net-zero logistics facilities, to Passivhaus standard schools, to mid-rise residential buildings using structural stone, low carbon is a multi-sector endeavour being driven by people from all sorts of backgrounds.
Misconception: I can just turn up and specify low-carbon alternative materials
Reality: Low-carbon materials are scarce so plan ahead
To date, the prevailing approach to sustainability in construction has focused on the specification of sustainable alternative materials in lieu of typical materials.
This can be specifying sustainably forested and sourced timber, recycled steels, or specifying the use of specific low carbon cement replacement products.
The problem is that all of these are broadly based upon finite resources.
So, while at a project level it looks sustainable when you specify recycled steel, in reality all that has happened is that recycled steels have been diverted away from other projects with less stringent requirements. Cement replacements like fly-ash and GGBS are in a similar situation.
Ultimately the way to deal with this is to think holistically. Ask yourself if the decision on material use is resulting in 'less stuff' for your project only or for the industry as a whole. We need to aim for the latter.
Ref: https://www.youtube.com/watch?v=E2BemzIf0to and https://www.istructe.org/resources/blog/the-hierarchy-of-net-zero-design/
Image courtesy of Fotohaus