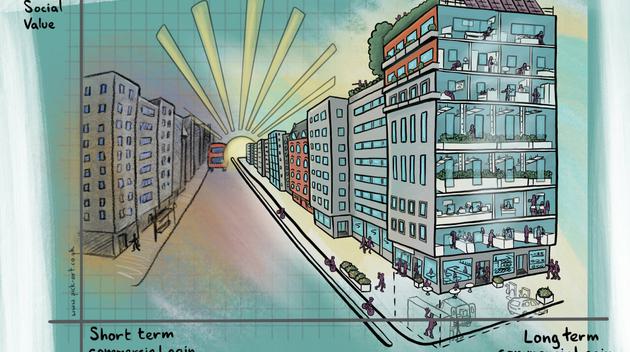 In late March, our Director of Innovation Delivery, Chris Bowie-Hill, wrote for Estates Gazette, exploring what might be next for the sleeping giants of our high streets: empty department store buildings. His suggestion was an innovative combination that would breathe fresh air into our town centres.
People want their high street revitalised, he suggested. They want to be part of lively communities, and to take care of the environment.
At Hydrock, we believe with vision, commitment and public/private sector collaboration, these buildings can be re-purposed to create a fully-sustainable, vibrant sense of place in our communities that still drive the footfall expected of an 'anchor asset'.
Challenging the dash to convert these behemoths of the high street into complete residential blocks, we believe alternative solutions exist that offer an exciting user experience and create long-term commercial value through the delivery of social value to the local community.
Our vision is to embrace vertical farming within a building that celebrates its own micro eco-system.
As Chris says, this vision isn't a pipe dream. It's a pragmatic solution to some very real problems. Now all we need is people brave enough to invest in it.
Read Chris' full article in Estates Gazette here.