Contemporary living space in the heart of Cardiff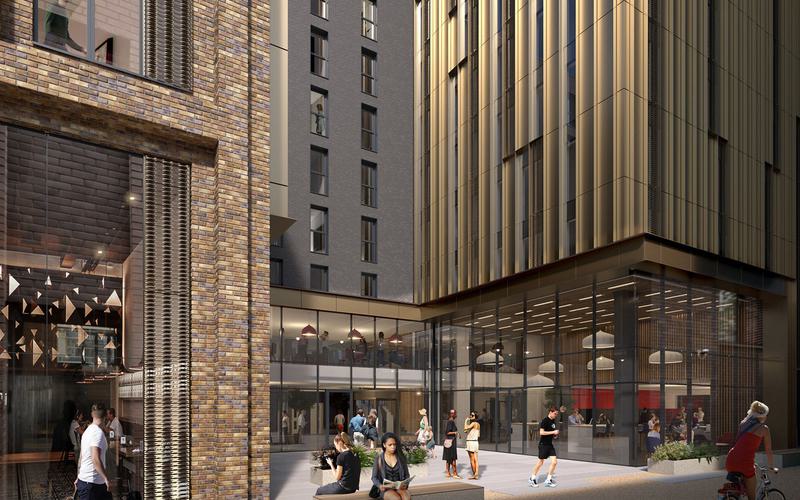 Advice from site viability to detailed design to sustainably shape a 16-storey, 150-apartment build to rent scheme in Cardiff city centre on a site only fractionally bigger than the footprint of the building itself.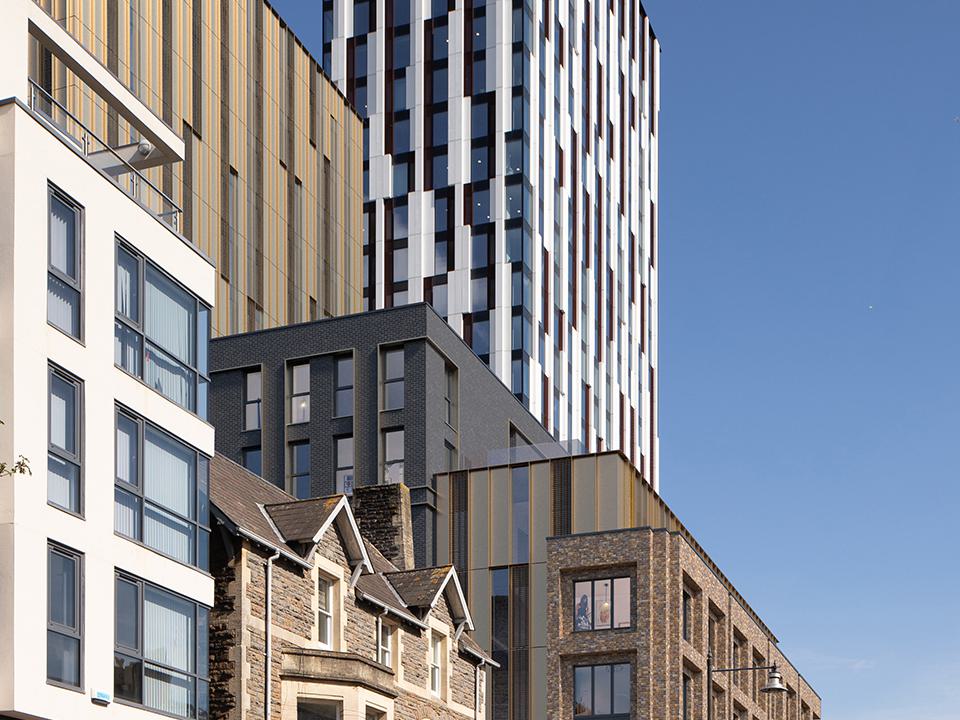 Appointed in 2018, our multi-disciplinary team in Cardiff has advised private real estate company, Crossmark with their acquisition, planning submission and detailed design for a £32m build to rent (BTR) scheme in Cardiff city centre.
Landore Court was a terrace of 1990's office buildings totalling 2,000 sq. m. Our initial role was to help Crossmark determine the viability of the site for a 6,900 sq. m, high-rise city-centre apartment scheme ahead of their acquisition of the site.
Crossmark's scheme will provide 150 apartments together with on-site amenities and publicly accessible ground floor commercial space.

Planning support to detailed design
Having established the site viability, we worked collaboratively with Rio Architects, planning consultants Avison Young, and heritage and ecology specialists, Environmental Dimension Partnership in support of the planning submission.
Our complete team advised on the planning submission and the subsequent design – our input included civil and structural design, MEP, transport planning, site investigations, acoustics and noise studies, air quality studies, fire engineering design, and sustainability and energy studies.
Our civil and structural engineers have taken the scheme to Stage 4 design, while our mechanical and electrical engineers took the design to Stage 3 and then advised Crossmark as their Technical Advisor.
The scheme is in a conservation area, so our structural design accounts for the building stepping down from 16 storeys to eight to five to reflect the street level dynamics and a site that is only slightly bigger than the building footprint itself. Our structural engineers advocated a highly efficient and economic reinforced concrete frame that fully accommodates the architectural vision.
In addition, through close and frequent consultation with the Cardiff SuDs Approval Body (SAB), our civil engineers led the successful integration of sustainable drainage features into the development proposals on this constrained site.

Delivering value
Sited in the heart of Cardiff city centre, our team has addressed a number of challenges for Crossmark to ensure the development is viable. Three particular areas of focus have included:
Our M&E and energy specialists designed a system to remove the use of gas from the building. Our team designed a solution to change from a CHP system to an air source heat pump system which is ultimately more cost effective and energy efficient. The result is that the mezzanine plantroom on the first floor is no longer required which also means Crossmark have gained more lettable space in the overall scheme.
We ensured that planning and SAB approvals were obtained by developing a strategy for a sustainable drainage system that met the strict requirements and expectations of the Cardiff SuDs Approval Body which is intended to be a standard across future city centre urbanised developments. Designed by our civil engineers, our team informed, briefed and managed the project team closely to ensure that all technical, cost, planning and risk issues were resolved smoothly.
Our structural design has accommodated multiple cladding types, mezzanine floors, inset floorplates and features such as green and blue roofs.
Construction started on site in summer 2021 and is scheduled to complete in 2023.
Images courtesy of Rio Architects.
Got a project in mind?
Get in touch.