Back to Articles
Meet Gemma Tong, Carbon Verifier – Corporate Sector
27th Apr 2022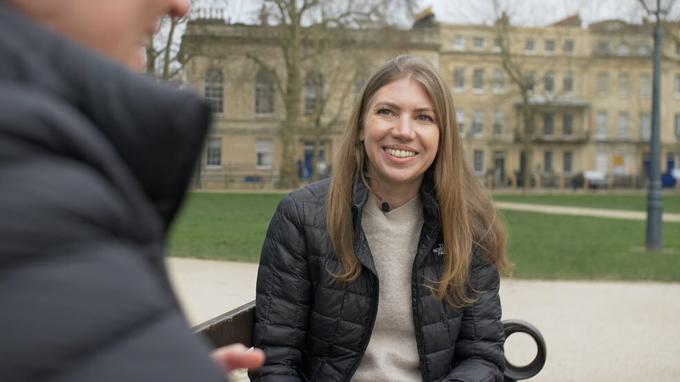 We spoke to Gemma Tong, Senior Consultant, and one of our newly accredited team of Carbon Verification specialists. Gemma tells us about how Beijing opened her eyes to the human impacts of climate change and how that has shaped her career to date.
What makes you get up in the morning?
I really enjoy my job. Sustainability is relevant to every aspect of how we live our lives and there are so many fresh and evolving challenges in what's still the early stages of a global journey.

Where did your interest in sustainability originate?
I loved physical geography at school. When I was sixteen, my family relocated to Beijing for a few years. I experienced first-hand the impact of climate change on our lives. In particular, poor air quality was a major challenge and has significant negative impacts on health.
The Beijing Olympic Games were taking place at the time and the global media were building headlines around what had become a chronic issue. The city's officials were under an acute magnifying glass and decided to introduce waves of restrictions across the region —this included halting all building sites and closing hundreds of factories in and around the city for the duration of the Olympic Games to reduce the particulate matter in the air. This achieved the almost impossible: completely blue skies in the infamously smoggy city.
It became a turning point. China's government recognised the need to resolve the issue long-term and later announced a five-year action plan to safeguard people's health and promote sustainable growth. Strides were, and continue to be, taken to combat climate change through afforestation on a vast scale and a huge expansion of green energy technologies.

You're an environmental geoscientist – what role does that specialism play in sustainable development?
Sustainability includes a number of different elements that all together fuel broader improvements which includes cost savings and increasingly safeguarding brand value. In our smart energy and sustainability team we tackle complex problems from all different, inter-related angles. We bring together energy, carbon, water and air quality perspectives and put them all on the table. Carbon is one of my areas of focus but when we're putting together carbon management strategies, I think it's so valuable to remind my clients that carbon is just one metric.

Do any metaphors come to mind to describe the work you do?
What always comes to mind is a picture on the back of a cabinet at one of my first jobs -(What if it's a big hoax and we create a better world for nothing?). It highlights that sustainability is about building a better place for people and our planet as a whole. And shouldn't we go to any length to achieve that?

Which are the projects you're most looking forward to working on, either in your day-to-day role or as a carbon verifier?
"

I work on corporate projects supporting organisations who are reporting on their carbon footprints and reduction strategies for the first time.

"
It's very exciting, we're now at a stage moving beyond very incremental sustainability journeys to working with clients that really want to show evidence of how they are leading the way. We're delivering Environmental, Social, Governance (ESG) strategies, net zero roadmaps, carbon verification and developing the policies that will underpin any set targets and support them to implement the initiatives. Given the scope to drive broad change, I can't wait to see where those journeys go. As one example, we're working with a company to develop their own net zero roadmap for Scope 1, 2 and 3 emissions and establish the governance structures and internal processes which will be key to achieving their targets.

When you think of the future of the kind of work you've talked about, what gives you a sense of hope?
Having worked in the industry for seven years now, what really gives me hope is how rapid the change has been in some quarters. There's been an awakening to the fact that to needlessly add carbon to the atmosphere when we know very well what carbon is doing to it, is simply wrong.
For example, there's been a dramatic uptake in the number of organisations signing up to the Science Based Targets Initiative, submitting targets in line with a 1.5⁰C future warming scenario.
While in the UK, top-down intervention and the introduction of new legislative requirements are helping to drive forward our net zero carbon ambitions. These include measures like the Procurement Policy Note 06/21, meaning organisations need to submit a carbon reduction plan and commit to net zero by 2050 if they want to be considered for major government contracts; and the introduction of mandatory reporting for the private sector in line with the Task Force on Climate-Related Financial Disclosures (TCFD) recommendations.
"

The attention from capital markets to ESG metrics is really driving the ambition level and helping reinforce how urgently carbon reduction initiatives need to be implemented. That's why verification is so important.

"
If you don't have a robust foundation to base business decisions on it really does slow down the pace with internal stakeholders. They won't have the confidence to make any transformative changes to the business.

What does climate equity mean to you?
It means that the developed nations that contributed most to the current problem support the nations and communities most vulnerable to the physical and economic impacts of climate change. Especially here in the UK, with its industrial history, we have an added responsibility to drive and export the knowledge and technology we generate. There's a long way to go and we're going to make mistakes, but the UK needs to make sure it takes a leading role in addressing the climate agenda. For me, this means rapidly reducing our own emissions and providing foreign aid wherever possible to build resilience and to help tackle the impacts of climate change for the most vulnerable communities.

Who do you look up to?
There are quite a few people I look up to and for different reasons. Someone who continues to inspire me is the American politician and activist Alexandria Ocasio-Cortez, who I've admired for the role she's played in highlighting climate equity and promoting inclusive solutions.
Kate Raworth, author of Doughnut Economics, is another incredible leader who highlights societal and ecological conditions as the key starting points for building a sustainable and thriving economy.
"

To survive rising temperatures, every system, and every environment —whether that be natural or by human design —will need to be as resilient and regenerative as we can make it.

"