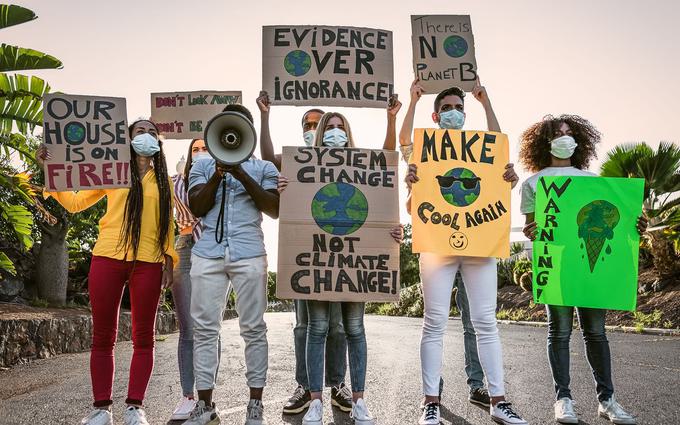 COP26 has been the catalyst for huge public attention and much debate on the climate emergency. And rightly so. But, if we're being truly honest, we've acknowledged for some time now that we're collectively facing the greatest challenge of our time and so, to lend from Greta Thunberg, it's time for the built environment to move past the 'blah, blah, blah' and act with real purpose before it's too late.
A reminder of the UK's promise
The Infrastructure Carbon Review (ICR) showed that infrastructure is associated with over half of the UK's greenhouse gas emissions (GHG) and 30% of these are directly attributed to the construction, operation and maintenance of infrastructure assets.
Make no mistake, achieving the UK's legally-binding commitment to achieve net zero by 2050 is going to be unbelievably difficult. The proverbial Everest. It demands environmental and sustainable strategies being placed at the heart of all organisations as a prerequisite ‒ met with a growing recognition that we must further accelerate our plans since the new IPPC Climate Change Report suggested that global warming will rise above the 1.5oc pre-industrial levels by 2030.
Current trends
There's a major drive within the UK building and infrastructure sector to commit to quantifying, managing and reducing the environmental impact of activities throughout the asset lifecycle. But for this to be successful, it requires robust methodologies and verifications so that any claims made in the public view, which could be met with cynicism or fall under scrutiny and represent a business risk, can be backed with evidence.
We're now seeing major contractors, for example National Highways, put verified carbon management standards within contract requirements, which then has a ripple effect on the supply chain.
What is PAS2080?
Developed by the British Standards Institution, the game-changing PAS 2080:2016 standard provides a common framework for all infrastructure sectors on how to embed whole life carbon management when delivering infrastructure assets and programmes of work.
Targeted at those who are responsible for delivering infrastructure, it promotes best practice in carbon reduction, reduced infrastructure deliveries and costs, collaborative working and supply chain innovation. Integral requirements include effective governance and leadership, quantification of greenhouse gas emissions, target setting, reporting, information management and continual improvement.
I'm currently working on HS2, which is taking a leading role and pushing contractual obligations into its supply chain specific to carbon. On this project, the main works civil contractors are contractually obligated to a 50% carbon reduction target while also achieving third party verification in PAS 2080.
Being involved with this project since tender, carbon management standards have become a second language for me and HS2 has actually held PAS 2080 verification for over two years now and is working towards world-class CEEQUAL (2018) accreditation. In this time, project teams have implemented industry-leading design optioneering solutions, for example, green tunnels – where a trench is excavated and roofed over, and the land on top of the tunnel is then restored so it blends into the landscape. There's also been product innovation, such as pioneering low carbon concrete which provides a reduction of 42% in CO2 compared to a standard product.
How does it benefit contractors?
As the world's first standard for whole-life carbon management in infrastructure, it focuses on how to reduce carbon emissions from infrastructure, both when it is built and when it is used.
In fact, by setting-out a consistent approach to cutting emissions PAS 2080 helps reduce risk, reduce cost, manage risk, improve innovation and provides transparency across the entire supply chain.
This whole-life approach – looking beyond the construction phase – is extremely important, because a significant proportion of emissions are generated through the use of infrastructure.
As another industry example, relatively hot off the press is Network Rail's new Environmental and Social Management Plan. Applicable to all contracts over £1m, it has included new sections on PAS 2080 principles, carbon and energy management, and it will now be imperative for contractors looking to get onto Network Rail Frameworks to have a knowledge of PAS 2080 and its implementation.
PAS 2060 –The verification for carbon neutrality
As a standard more applicable to all sectors and organisation types, PAS 2060 is a common framework for implementing effective climate change mitigation measures and has the ability to differentiate between real and false claims of carbon neutrality.
Carbon neutral refers to a policy of not increasing carbon emissions and of achieving carbon reduction through offsets. This is critically different to net zero carbon, which means making changes, which aren't verified by standards, to reduce carbon emissions to the lowest amount – and offsetting as a last resort.
Becoming carbon neutral is the new gold for many projects. But for it to count, that removal must be permanent and accredited or licensed.
We're all in it together ‒How carbon emissions are managed in other sectors
I was pleased to read that the London School of Economics and Political Science has been independently verified as carbon neutral, for all its measured emissions.
COP26 provided the much-needed catalyst for deeper thought and more decisive climate adaptation action. More organisations and projects will be aiming to do what's right by reducing their carbon footprint wherever possible. With claims about carbon coming under increasing scrutiny, the only way to mitigate any risk will be to verify and implement recognised standards.
In turn, this will uncover organisations that are truly serious about sustainability, responding to the challenge of climate change and contributing to the United Nations Sustainable Development Goals, while enhancing performance and resilience.
This article originally featured in the Yorkshire Business Insider