Back to Articles
How can Hydrock help you optimise solar PV generation yield through battery storage?
Josh Bullard
\
18th Oct 2019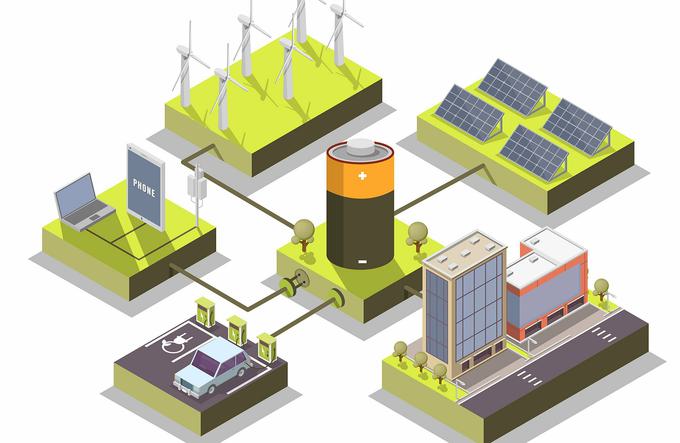 Solar photovoltaic (PV) technology, much like other renewables, has a challenge around matching power generation to demand. Taking a typical residential property, we can expect an energy demand in the morning and evening while solar power would be generated during the day. Any surplus solar power generation not used during the day has to be exported unless a form of energy storage is provided.
While PV has a payback through energy cost savings over a 10 year period, there is still a significant amount of power generation that is potentially wasted. Battery technology can be utilised to help match demand and power generation.
Energy bills can be reduced by storing surplus free solar energy which can then be used when there is a demand. Further, where variable energy tariffs are in place, cheap electricity can be taken from the grid and stored in the battery for usage during times on the grid where energy tariffs are higher.
This principle is referred to as load shifting and can provide significant cost savings where variable tariffs or half hourly (non-domestic) meters are in place. Beyond cost avoidance there are also various opportunities to earn income from supporting the grid through export.
Optimisation toolkit
Our Smart Energy team has been developing a toolkit to help clients and design teams optimise their solar PV energy generation yield usage through battery storage. Using solar irradiance datasets from across Europe, the tool allows us to calculate daily solar generation potential for any site and system size.
A full range of energy factors are accounted for including panel type, module efficiency, orientation and lifecycle degradation. Battery sizing accounts for system efficiency and usage; the amount of cycling and draining of the store can have a significant impact on the lifespan of the equipment.
In cost terms, the tool allows input of energy tariffs dependent on location and utility provider, fuel inflation projections and equipment capital expenditure in order to understand payback periods and potential cost savings.
Outputs can then be compared to calculated daily energy demand profiles based on the building type and occupancy characteristics.
A further key benefit includes the ability to review electric vehicle (EV) charging costs and optimal charging times depending on energy tariff rates. The Government is proposing through Building Regulations consultation that EV chargers will become mandatory in all new build homes.
Solving the solar PV and battery storage conundrum
Our toolkit allows us to present recommendations to our clients based on a comprehensive set of variables specific to their needs including:
Annual running cost and savings
Payback periods
Electricity usage by source
PV array and battery sizing
Carbon savings
Taking account of the wider need for greater energy supply resilience and storage capacity on the grid, the commercial case for battery technology is starting to be realised and we can expect to see significant reduction in capital expenditure as the technology is more widely adopted.
To help develop this toolkit further, application on your projects or other Smart Energy opportunities please get in touch with one of the team.
Contact us at SmartEnergy@hydrock.com or on our social media pages using #SmartEnergy.
Hydrock Smart Energy Service
Establish the right mix of technologies for site
Navigate through the evolving energy landscape
Develop a tradable asset and income stream
Overcome capacity constraints
Create a resilient power supply
Decarbonisation and renewable energy appraisal
This article was originally published by Josh Bullard on LinkedIn.