We spoke to Matt Pygott, Senior Carbon Consultant and lead of our newly accredited team of Carbon Verification specialists, to find out a bit more about him, his interests and the importance of his work at Hydrock.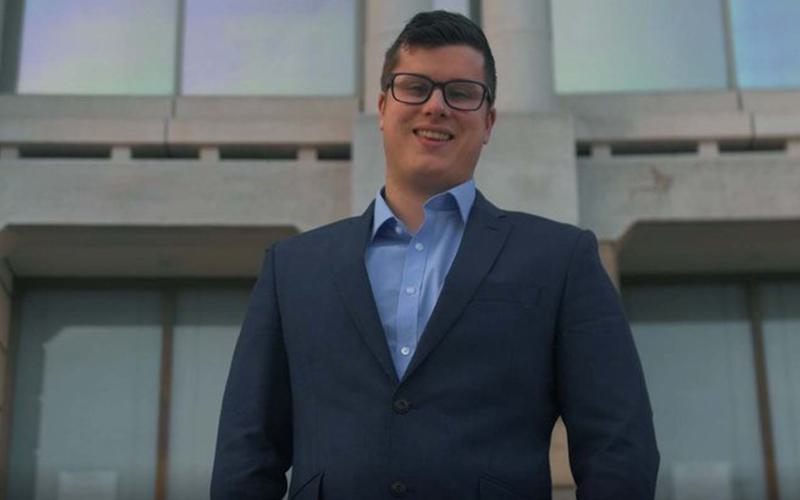 What do you enjoy most about leading the Carbon Verification team?
Every member of the team has an equally important part to play in leading their specialist area, whether that's a corporate, nuclear or construction focus. I act as the facilitator, which is what I love – I combine all of our hard work and mould it into something that I can present to the senior business managers and boards of our clients.
What's the greatest challenge of your job?

The biggest challenge is that this is relatively new territory for our industry and for business as a whole, and many clients don't understand it yet. A lot of my work involves educating my clients.
Many entities aim for a net zero building, for example, and publicise their good intentions, but few will think about needing those claims verified. The risks involved aren't fully understood yet.
What are you particularly enjoying about working for Hydrock?
For me, it's the diversity of the work and projects Hydrock is involved with and the clients we can support. From energy firms and water companies, right through to developers, major contractors and local authorities. I really enjoy the diversity here.
The social aspect is also amazing. Getting back into the office is great, and the fabled Hydrock Challenge Day is such good fun. I think the company values are industry-leading.
By day, you're our Senior Carbon Consultant, by night you are…?
I love entrepreneurial projects, hence why I'm enjoying building Hydrock's Carbon Verification service. I co-founded a drinks company, which has been on the market for a couple of years now, and we've done really well. We're just about to launch a new product and it's been a great experience. As a co-founder its very busy and takes up the majority of my evenings and weekends, but I like that. The learning curve is steep and you learn to deal with ups and downs.
It's important to see someone young like yourself leading this team, as we're working to improve the lives of ourselves and younger generations to come. How do you think your age benefits you in your role?
The problem in the UK right now is that there aren't enough verifiers. My team, along with the smart energy and sustainability team, are young and I think that's good because we bring an optimism and energy to the work we do, and clients love that. Verification is an auditing function which brings an inherent discomfort to most clients! Having a verifier who is young and proactive in their business, talking to their people, is definitely a benefit. As we grow this area, we'll ensure even more young people are trained up in this field.
How do you feel we can best prepare the younger generation in the transition to greener living? What advice you would give a younger person who is feeling anxious about climate issues?
I think we're over the greenwashing phase now. Everyone has a basic knowledge of what is happening to the climate, particularly the younger generation. We're all about moving to a more sustainable way of life, whether that's refill stations at your local supermarket, or looking at buying a hybrid car.

The pressure is on for businesses to assure their greenhouse gas and net zero claims, because this is so important to our younger generations who increasingly use this sort of data to make big decisions – where to work, what to buy, how to live.
I'd say to anyone who is feeling anxious, there's a lot of things they can do personally, and knowing you're making a difference in your day-to-day decision making can really help.
There's a lot of resources out there to educate yourself, so it's easy to find information on how you can do this. We are facing a crisis, and we can deal with large-scale, such as the work we're doing at Hydrock, as well as personally, too.
Where did your interest in sustainability originate?
I studied environmental geography at university in York and I left having no idea what I actually wanted to do within this area. I joined a large construction company and was asked do a carbon calculation for a rail platform. The platform ended up winning an award which opened the door for me to work on a bid for HS2. I led the tender which equated to £2.6bn worth of work, with about 10% of that being environmental.

From there, I've continued my HS2 work with Hydrock and have led on carbon consultancy. Overall, the HS2 project is aiming for a 50% reduction from a baseline I set in 2018. We are on a long journey but we have made significant progress to date.
Is there a project that you're particularly looking forward to working on?
The E18 Motorway between Langangen and Rugtvedt, in Norway, which we've been appointed to act as the strategic advisor to Eiffage Génie Civil on behalf of Nye Veier. The project is worth €100s of millions, running through a network of fjords and, therefore, there's a lot of tunnelling to be done. It's a really unique project, especially for its environmental conservation factors such as protected orcas and the salmon runs.

How do you act sustainably in life outside of work?
Sustainability has always played a big part in my life and I try to do my bit as much as I can, from eating less meat and choosing sustainable products, to wearing conscious fabrics.
A few years back this might have been considered 'a bit different', but now, I'm thankful it's considered the norm. You can even go into bars now and they've got paper or pasta straws… the pasta ones taste a bit weird!
Who do you look up to?
I always find discussions with our directors and members of the board at Hydrock really interesting. You can learn a lot about potential career paths and how to achieve the next step in your own career. But I like to say that I look up to myself – who I'll be in a year's time.