Back to News
Hydrock pitches in to sponsor Portishead Town Ladies Football Club
19th Nov 2021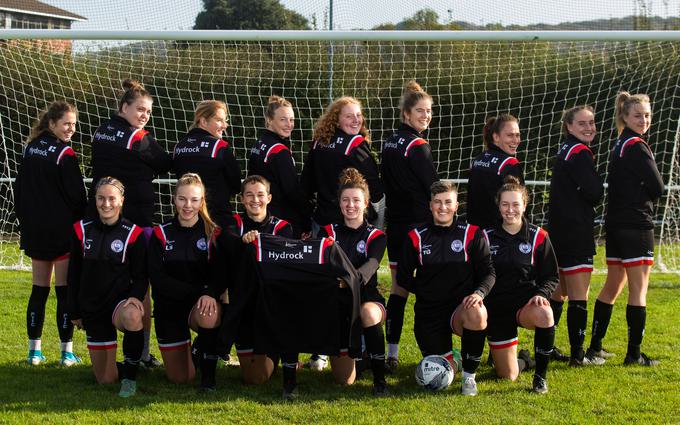 Reflecting our commitment to health and wellbeing and being a force for good for both our people and our local communities, we are delighted to announce that we have sponsored Portishead Town Ladies Football Club First and Reserve Teams.
Senior Consultant in our Nuclear team, Ruby Lowe, based at our Almondsbury headquarters, plays for the semi-professional First Team as centre back.
The First Team were promoted at the end of last season and now play in the FA Women's National League (Division 1, South West), joining other teams such as AFC Bournemouth, Exeter City, Southampton Women's FC and Cheltenham Town.
Following steady growth with promotion in most seasons since 2016, Portishead Town Ladies Football Club is now seeking to become as established as their counterparts, many of whom have sponsorship deals. We decided to honour the club's fantastic achievement with our support, and have sponsored the ladies' teams by contributing to a new Hydrock branded training tracksuit for all players as well as helping to cover other costs associated with playing at this level.
Ruby's playing career at the club coincides with when she joined Hydrock six years ago. She said: "The costs associated with playing at this level are much higher compared to lower levels, due to away-day travel costs, training facilities, match officials and so on, and we're so pleased and grateful that Hydrock are sponsoring us to help towards these costs."
Marketing Director Graham Munday added "Health and wellbeing is a fundamental part of Hydrock's DNA, so we're truly delighted to take this opportunity to get behind a talented local football team. We're pleased and proud to be able to support women's involvement in sport, and excited to be able to assist Ruby and her team mates during this exciting time in their semi-professional football careers."
The First Team's next league match is at home to Larkhall Athletic on 28th November. Best of luck to the team!