Back to News
Hydrock helps unlock redundant land for significant regeneration scheme in Cheshire.
8th Feb 2022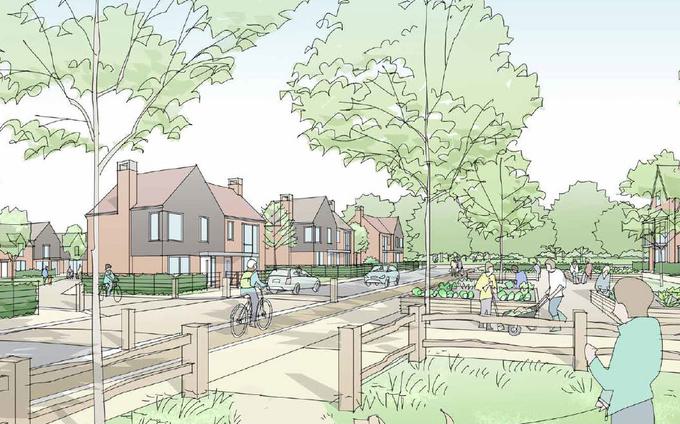 We've helped unlock brownfield land for a major mixed-use regeneration scheme on a 130-acre site owned by Tata Chemicals Europe and Inovyn Enterprises in Northwich, Cheshire.
A partnership between the landowners and Gladman Developments is bringing forward plans for the construction of 1,500 homes, including 118,000 sq ft of specialist accommodation, a four-acre public park and other commercial, community and leisure facilities.
The site has been earmarked as appropriate for redevelopment as part of local council and neighbourhood plans, preserving greenfield land in the area.
Appointed by Gladman Developments, our geo-environmental specialists have supported the planning application submitted to Cheshire West and Chester Council providing detailed ground investigations, earthworks and the remediation strategy. The land, known as Winnington Works, is available for redevelopment following the closure of Tata's soda ash and calcium chloride plant in 2014, and Tata's exciting plans to build a new state of the art "green" sodium bicarbonate plant within a discrete industrial zone adjacent to the site.
Chris Still, Senior Planning & Development Director for Gladman, said:
"The Winnington Works site is an extremely complex brownfield regeneration site requiring remediation and remodelling adjacent to the River Weaver in Northwich. We partnered with Hydrock as we felt that they had the relevant levels of technical expertise that is required to provide a deliverable remediation strategy for the site."
As part of the site's evolution, much of the former soda ash works has already been demolished including the levelling of the 150ft high kilns. Other parts of the site will be demolished in stages over time.
Phil Davies, Director at Tata Chemicals Europe, said:
"We have been delighted to have Hydrock's expertise available to us and Gladman Developments to help shape what is a really important strategic project for Tata Chemicals Europe, as well as being an exciting project for Northwich and the mid Cheshire area.
"The opportunity for the regeneration of this site was recognised as a result of the reinvestment program and modernisation and consolidation of some of the TCEL operations within the site which includes a new carbon capture and utilisation plant and the replacement of the current sodium bicarbonate production facility with a brand new, "green" plant for which planning consent has been obtained.
"This consolidation programme will help sustain the TCE business in Northwich for the long term, and with Hydrock's help will enable a significant proportion of the historic brownfield site to be remediated, regenerated, and redeveloped, allowing community access to a 2.5km stretch of the Weaver riverbank for the first time in 150 years."
Danny Hope, Regional Director at Hydrock, added:
"We're delighted to work with Gladman Developments on this key regeneration project. At Hydrock, the creation of social value runs through everything we want to do. This potential redevelopment supports that, promising to meet local housing needs and transform the disused areas into an attractive, sustainable area with amenities desired by the wider Winnington community."
Our geo-environmental assessments and inspections have confirmed the site's feasibility and that the development won't have any adverse impacts on human health or the built and natural environment during its lifecycle.
"

We partnered with Hydrock as we felt that they had the relevant levels of technical expertise that is required to provide a deliverable remediation strategy for the site

"
The wider project team includes Savills (Urban Design) and Terence O'Rourke (Planning).