Back to News
Supporting sustainably-connected communities in Ancoats, Manchester
10th Aug 2021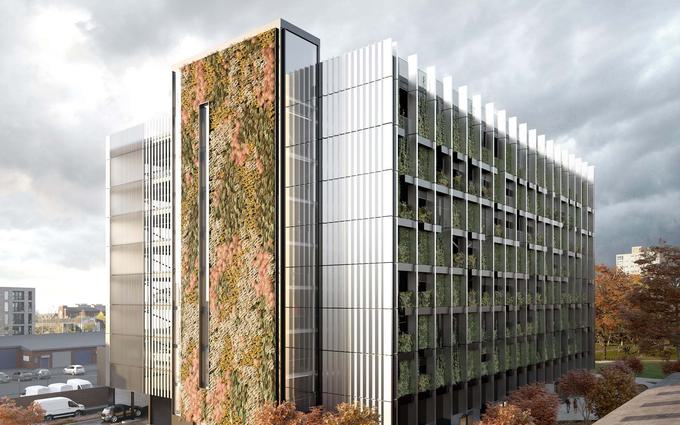 We've provided Manchester Life Strategic Development Company Limited (Manchester Life) with transport planning and engineering design in support of two key planning applications concerning the next exciting phase of regeneration across the Poland Street Zone in Ancoats and New Islington.
The most significant of these applications concerns the Ancoats Mobility Hub, which is designed to place sustainable and shared transport choices at the heart of the community and has now been approved by Manchester's Planning Committee.
The pioneering Mobility Hub will ensure that streets will see fewer vehicle movements because of centralising residents' parking and the neighbourhood 'last-mile' delivery hub. The Hub will also encourage residents and visitors to choose sustainable modes of transport by offering an electric car share club, e-bike scheme and 150 secure visitor cycle parking with changing facilities.
Sam Denby, Transport Director at Hydrock, said:
"We're delighted to continue our relationship with Manchester Life and the pioneering regeneration of Ancoats. The Mobility Hub is a unique project, which is well suited to support the ever-growing Ancoats and New Islington neighbourhoods. Once in place, the area will feel the benefits of having multiple sustainable transport choices, along with addressing concerns around on-street parking and surface car parks, within a strategy currently being developed by Manchester City Council"
Hydrock were instructed by Manchester Life Strategic Development Company Ltd. to produce transport assessments to support these applications, which identified the measures required to reduce multiple vehicle movements, support sustainable travel, and contribute to improved air quality targets within the area.
Meanwhile Eliza Yard, which is the other project we've supported the planning application for, will be among the residential schemes that will ultimately benefit from the Ancoats Mobility Hub.
Our appointment comes as recognition of our track-record of delivering integrated engineering design across several projects in Ancoats over the last five years as part of the area's regeneration into an exceptional community and place to live.
Other Manchester Life projects we've supported include Cotton Field Wharf, Smith's Yard and Lampwick which have all helped transform the community, so much so that it's been voted one of the coolest places to live in the world by Time Out Magazine.
Photo courtesy of Buttress Architects