Back to News
Hydrock & KTA logistics specialists advise on 1m sq ft reserved matters application at Magna Park North
19th May 2021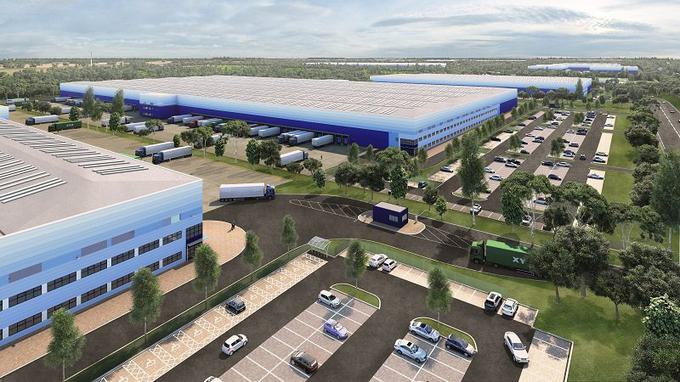 Hydrock's logistics specialists, including our recently acquired mechanical and electrical (M&E) business, KTA, have been advising GLP across their Magna Park North scheme in Lutterworth, including on a reserved matters application submitted in April 2021 for three new units totalling 1m sq ft which will form part of the overall 225-acre extension to the park.
As a leading developer of logistics facilities, GLP's Magna Park Lutterworth scheme is Europe's largest dedicated distribution park with outstanding credentials in environmental management, sustainability and occupier wellbeing. Strategically positioned with direct frontage onto the A5 carriageway and rapid connections to the M69 to the north, the M1 to the east and the M6 to the south, the Magna Park North extension will ultimately offer up to 3.3m sq ft of accessible space.
KTA, acquired by Hydrock in March 2021, have been advising GLP site-wide on the M&E requirements for all of the infrastructure services relating to the Magna Park North extension. They have also delivered the developer base build services for Plots H&I which are the three units totalling 1m sq ft that have been submitted as a reserved matters application.
Speaking about KTA's role, John Griffiths, KTA's CEO said: "We've been advising GLP on the Magna Park North extension for around three years, so alongside Hydrock's civil engineers it's great to see this phase go forward for planning.
"We've already future-proofed the whole masterplan site for power by working with GLP, and the wider project team, to deliver a 17MVA primary sub-station during Phase 1 of the development. We also provided the base build and fit-out services for the 1 million sq ft Wayfair distribution centre."
Hydrock's specialist civil infrastructure logistics team based in Hale, Manchester, have also been supporting the overall infrastructure for the whole development including off-site highway works on the Highways England network. Their work has included supporting a number of reserved matters planning applications, internal infrastructure, Plot F infrastructure and advising on off-site works that link the site to the A5.
For the current submission, Plot H covers MPN1 which is 200,102 sq ft and MPN2 which is 503,216 sq ft, while Plot I is MPN3 which is 297,194 sq ft.
The site will also be home to a university-partnered logistics academy and campus to prepare students for careers in the industry and help feed the next wave of talent in the industry.