Back to News
Hydrock expands presence in Glasgow
3rd Jul 2019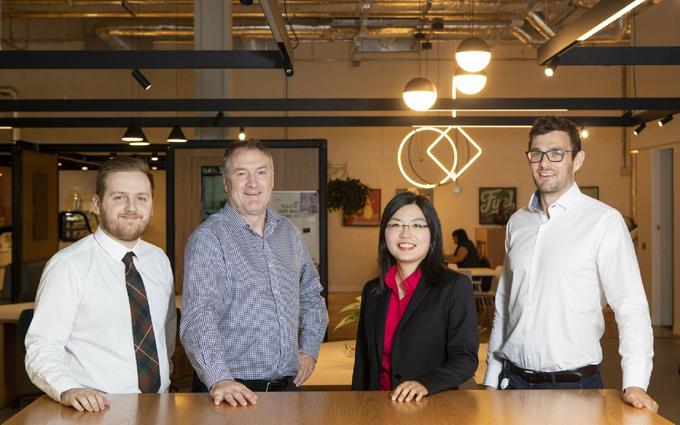 From a new office base at 1 West Regent Street, and with new hires to strengthen our fire engineering and nuclear consultancy teams, Hydrock is fast expanding in Glasgow city centre.
Hydrock has moved into 1 West Regent Street in Glasgow, enjoying the bright, collaborative workspace on offer from Spaces. It's proving a great new base from which to expand our fire engineering and nuclear consultancy teams.
Whilst actively meeting clients across the UK, Glasgow is literally the spiritual home of Kevin McKeown who leads our national fire engineering consultancy practice. Kevin's team delivers a range of services from fire safety engineering design to fire risk management across all sectors from commercial and residential buildings to high hazard facilities.
Joining Kevin in Glasgow are two new hires, Dr Shuyuan Lin and James Fraser, while Craig Lobban is relocating from our London office to Glasgow.
Dr Shuyuan Lin has a PhD in Structural Fire Engineering from Brunel University and has particular experience in the oil and gas sector. Using finite element software, Shuyuan has experience of modelling oil and gas platforms to understand and minimise the impacts from structural fire collapse. Since joining Hydrock she is developing the fire engineering strategy on a range of developments being undertaken by Willmott Dixon across Wales and south west England.
James Fraser is a Graduate from Strathclyde University who is helping the team review architectural drawings and provide assessments against multiple fire safety codes. James has been assisting our M&E team with the conversion into a hotel of a vacant office block, that was formerly home to Edward Everard's Print Works in Bristol.
Joining Shuyuan and James in late July is Craig Lobban, a fire safety designer who is relocating from our office in London. Craig specialises in the pre-construction design phase, RIBA Stages 2-4, liaising with architects to ensure their designs are compliant with fire regulations, and delivering performance-based fire safety design solutions. Craig has been working on a complex heritage project in London, a new maintenance, repair and overhaul aviation facility at TAG Farnborough Airport, and the refurbishment of a former retail department store in Exeter into residential and office accommodation.
Working alongside our fast-growing fire engineering team in Glasgow is Neil Calder who is a core part of our UK-wide management consulting team advising the highly regulated nuclear and oil and gas sectors.
Speaking about the growth of the Glasgow office, Kevin McKeown said: "This is an exciting development for Hydrock to be fully establishing our presence in Scotland with the growth of our nuclear, oil and gas and fire engineering teams in Glasgow. I'm personally looking forward to hosting clients in our new space in the city centre later in 2019 to showcase what Hydrock can offer."
Pictured above L to R: James Fraser, Kevin McKeown, Shuyuan Lin and Neil Calder.