Back to News
Team Hydrock retains corporate cup at Property Triathlon North for third time
21st Jul 2017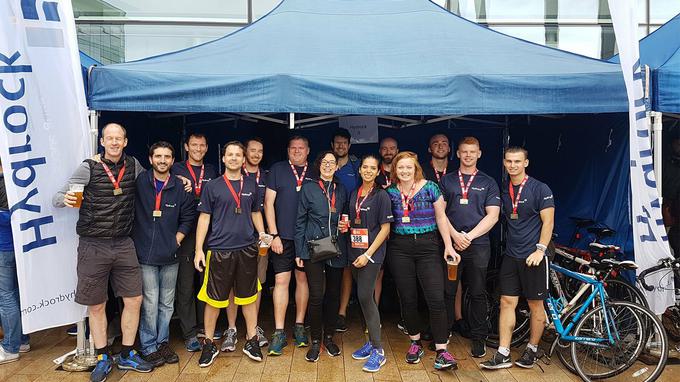 Hydrock's amazing triathletes won the Corporate Cup for the third year running at Friday's JLL Property Triathlon North in Manchester.
To win the cup, Hydrock's combined fastest three finish times once again topped the leaderboard – with two of our competitors securing first and third place overall as individuals.
Danny Hope, Land Quality Technical Director based in Manchester, was the fastest male overall with an incredible time of 1.06.08, with colleagues Iain Hissett and Blaise Kelly from our flood risk and building performance engineering teams helping him secure the cup for the third time.
The event, held at the impressive MediaCity UK on the waterfront in Manchester, saw competitors from Hydrock's offices in Manchester, Hale, Stoke, Birmingham and Bristol take part. Hydrock has competed at the JLL Property Triathlon North since it started in 2015, and has also participated at the JLL Property Triathlon at Dorney Lake, Eton for the past nine years.
Team Hydrock also mixed with celebrities on Friday, as Louise Minchin from BBC Breakfast competed, and was the fastest female triathlete, with a time of 1.24.00.
For further information please contact Danny Hope.