Back to News
INWED18 - 7 of our female engineers inspire 30 girls on the diversity of engineering
26th Jun 2018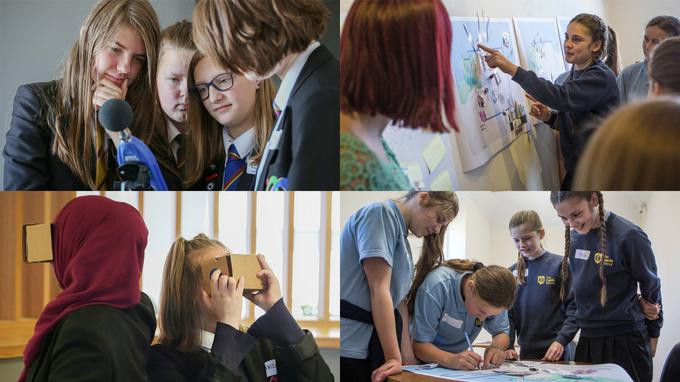 Hydrock celebrated International Women in Engineering Day on Friday 22nd June by running two workshops for female school-children in our offices in Bristol and Almondsbury, informing and inspiring them on the opportunities from a career in engineering.
In Bristol, four of the females in our Building Performance Engineering team hosted 15 female students in Year 9 from Bridge Learning Campus, an all-through academy in the Whitchurch Park area of Bristol. Our team of Eva Mills, Hannah Jane, Eleanor Wratten and Elena de Juan Romero spoke personally about their respective backgrounds, academic choices and career decisions. They also took the students through the principles of sustainable building design, focusing on how to achieve energy efficiencies, a high standard of air quality, good acoustic design and lighting control within buildings.
Speaking afterwards, Marie Hazel, Director of STEM at Bridge Learning Campus, said: "I would just like to say a massive thank you for the amazing workshops and lovely lunch that you put on for us today. The students really enjoyed it and we're planning to launch the engineering club the week after next. It's amazing for them to see women in different careers and from such different backgrounds."
At Hydrock's head office in Almondsbury, four early-career professionals in our nuclear consultancy team hosted 15 female students from Year 7 at Castle School in Thornbury.
Sophie Osbourne, Ruby Lowe and Charlie Pickering, all graduates from Bristol University, joined Hydrock's nuclear team in 2014, 2015 and 2016 respectively. Accompanied by Jonny Bew, seconded to Hydrock on a Rolls-Royce sponsored graduate scheme, our three female nuclear scientists got the school-children to initially discuss what skills they thought were needed to be an engineer, and to write down what they knew about nuclear power, which prompted some fascinating debate about current world politics!
Our team shared their personal journeys. Sophie revealed that the favourite part of her degree was using lasers to study what happens inside diamonds, that she now writes safety documents for new nuclear plants, and that outside of work she is a ballroom dancer and recently competed in Malta. Charlie talked of her pride at creating a unique gold catalyst at university, her role in inspecting facilities to make sure radioactive waste is being managed safely, and the opportunity she had for a sabbatical in South America in 2017. Ruby spoke of her studies at university on greenhouse gas emissions around the UK, the work she does for clients in advising on radioactive waste management, and she revealed the high standards she has reached playing women's football.
The Castle School students completed their session by mapping out and presenting on the issues they felt should be considered when developing a new nuclear power station which prompted intense debate about badgers, fish and the importance of the rail network.
Commenting on the experience, Rachel Beddoes, STEM Coordinator at Castle School, said: "Stereotypes were most definitely broken down at the session – not only with respect to female engineers but also to the nuclear sector and engineering in general. All the way back in the minibus our students were chanting #engineers for life – so I can say with confidence that our time at Hydrock has certainly had an impact on our students!"
Inspiring students about engineering at an early age is important to Hydrock says, Group Managing Director, Dr Brian McConnell: "There is so much opportunity for engineering design across both the built environment and infrastructure sector, which means as an industry we need to be able to resource from as wide a talent pool as possible. Inspiring and encouraging girls at school and college about the breadth and diversity of what is available from a career in engineering is really important to us. I'm delighted we had the opportunity to run these two sessions to celebrate INWED 2018."