Back to News
Success for Hydrock's first-class graduates
21st Aug 2019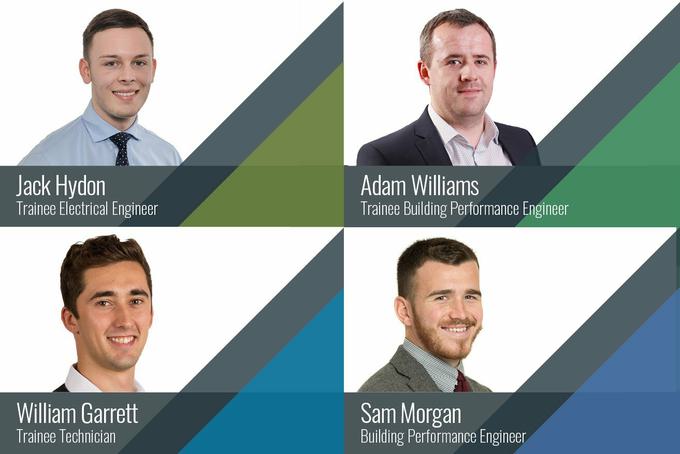 Hydrock would like to recognise the success of Jack Hydon, Adam Williams, William Garrett and Sam Morgan (pictured above) for completing their degrees with First Class Honours while simultaneously working for Hydrock.
Jack Hydon, a Trainee Electrical Engineer based in our Birmingham office, recently graduated from Coventry University with First-Class Honours in Building Services Engineering.
During the last three years at Hydrock, Jack has worked on several notable projects including The Verne Prison and Guy's and St Thomas' Hospital.
His dissertation, titled, "The psychological and cognitive effects of LED correlated colour temperature (CCT)" used 15 Hydrock employees as participants for a practical experiment based in our Birmingham office.
Commenting on his achievement, Jack said, "Although the hours were long, I believe anything is possible with the correct mindset and support. I am incredibly thankful to Hydrock, in particular, Simon Woolven for aiding my development over the past three years."
Adam Williams, a Trainee Electrical Engineer based in Manchester, graduated from Liverpool John Moores University in Building Services Engineering with a First-Class Honours Masters Degree.
Adam's journey with Hydrock began in 2016. He has contributed to several major projects, including the ongoing refurbishment of Liverpool John Moores University main buildings where he often studied.
Basing his dissertation on external lighting, Adam discovered the impact Correlated Colour Temperature (CCT) has on occupants in urban areas during many months of research.
Adam said, "Completing the course wouldn't have been possible without Hydrock's support system and the Manchester team. My advice to other students looking to complete an equivalent course is to be prepared for late nights and long weekends. Take everything week by week, and focus on small tasks to make up the bigger picture."
William Garrett, a Trainee Technician in the Infrastructure team at our Almondsbury office, graduated from the University of South Wales in Civil Engineering with First-Class Honours. Will's dissertation focused on Sustainable Urban Drainage Systems (SuDS), and more specifically, the development of materials used, opting for more sustainably sourced materials over that of traditionally quarried stone.
Will joined Hydrock in 2016 as a work experience student, before gaining a Trainee Technician role full-time the year after he completed his Higher National Diploma (HND). He has worked on numerous notable residential projects since starting with Hydrock and is pleased to have assisted in the design of The Wave, Bristol.
Over the past two years, Will worked for four days a week with a day at the university campus and has undertaken many late-night and weekend study sessions to ensure success in his degree.
He said: "I am delighted that my hard work has paid off. I think the key to my qualification success was effective time management both at work and university. I would highly recommend studying part-time to any trainee engineer, it expanded my knowledge and gave me endless experience for future growth. I'm also delighted to have been part of the design team for such a significant local project in The Wave, one that as a local resident I've been watching closely through its concept and planning stage and I look forward to its opening in a few months."
Samuel Morgan, a Building Performance Engineer based in our Cardiff office graduated from the University of the West of England (UWE) with a First-Class degree in Building Services Engineering.
Sam has worked at Hydrock for over three years and attended university one day a week, working for the remaining four days. Sam has played a critical role in an extensive range of projects such as Taff Vale Redevelopment and St Andrews Methodist Church, a project he proudly secured himself.
"My final year project was based on the redevelopment of Taff Vale and I'm really pleased with the result," he said. "It took hard work, dedication, late nights and organisation but the result was incredibly worthwhile. Thank you to Hydrock for providing support, along with my amazing friends and family, both within the Cardiff office and outside of it."