Back to News
Infrastructure is for everyone – but is our industry for everyone?
15th Aug 2017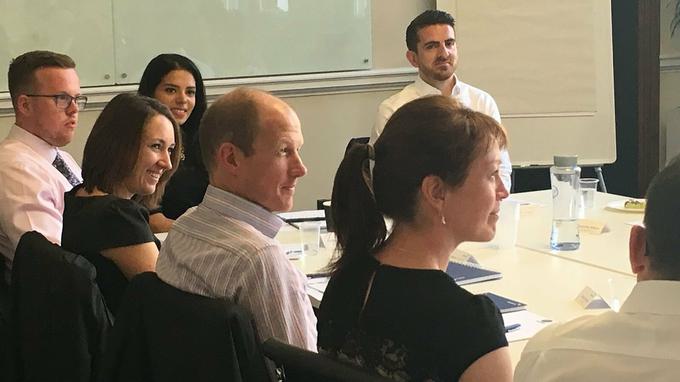 July, 2017 – an exceedingly warm summer's day in the heart of Manchester's business district – and Hydrock were busily welcoming guests to a breakfast roundtable. The aim? To bring some focus to the issue of diversity in the built environment sector.

Hydrock invited some of our key partners within the construction supply chain, including architects, developers and main contractors to debate: Infrastructure is for everyone – but is our industry for everyone?

The aim of the session was to discuss a range of diversity issues such as gender mix, ethnicity, disability and socio-economics, and to generate practical ideas to support diversity in this industry.

Held at Greater Manchester Chamber of Commerce, we drew people from a diverse cross-section of our industry. In addition to Hydrock's Anita Singh and Danny Hope, we were joined by representatives from Turley, Morgan Sindall, Wilmott Dixon, Cushman & Wakefield, Sisk, JM Architects, Green PM, JMW Solicitors, Whitecroft Group, Land Use Consultants, Buttress, and Faithful & Gould.

Organised by Land Quality Consultant, Anita Singh, the session was facilitated by Stephen Gleave, senior director at Turley and visiting professor at the University of Liverpool.

Introducing the debate, Anita explained, "I really wanted to ask how we can afford not to focus on diversity, and how do we engage with people? Although the sector has made great strides over the past decade in terms of opening up to a broader range of people, there is so much still to do."

The discussion began. It was clear that there was an unspoken acknowledgement of this being a topic that encompasses numerous elements, affecting people in unique and sometimes personal ways. However, this group were invited for their passion on the subject and they talked openly and frankly.

One attendee said: "It's clear that the glass ceiling is still in place in many workplaces. Women are still facing challenges around flexibility if they choose to have a family, while there is a massive lack of representation of women and ethnic minorities around the board table."

Stephen Gleave said: "A challenge for me is where women are when it comes to delivery roles. We're seeing women in strong consultancy and political roles but not many are leading projects or delivering on site. It was pleasing to hear from one guest that their graduate intake is 50/50 gender split with a number of different nationalities. But on the other hand, we were told that many young people entering jobs within the built environment are only aware of these career options because they have a family member working in the sector.

"We need to do more with schools and colleges to highlight the broad range of career possibilities available through STEM subjects."

Amy Mandviwala, property development assistant at Whitecroft Group, agreed: "I came into the industry in my early twenties. No-one ever mentioned it to me at school as a career option. More information needs to come from careers advisors and other organisations that children and young people are influenced by."

On the subject of flexibility for working mothers, Jacqueline Whitworth-Allan, landscape architect who has recently joined Land Use, said: "I had to make a decision when I had children and the consultancy side of the sector is a lot more flexible. But I do think it depends on where you work as to how you're treated and there is a ceiling across the industry. It can take months after coming back from maternity leave to prove yourself again, so that's potentially a couple of years out of your career progression."

All the guests agreed that a new system of pro-active career 'sponsorship', rather than passive mentorship schemes, would be of huge benefit.

Anita said: "We definitely need role models and people who can offer advice and support to the younger generation of people coming into the industry, and not necessarily within the same business. This is certainly something I'd like to discuss on a wider level with an organisation like the Forum for the Built Environment."

Stephen Gleave concluded: "I've heard the equation: 'What you get = What you expect + What you accept'. We should stop accepting and start expecting more across the industry as a whole when it comes to diversity.
"We need to keep promoting a positive image of the built environment sector and showcase the breadth of opportunities to people of all backgrounds."

As the last couple of minutes approached, the group agreed to take action. The appetite to meet again and expand on the numerous topics was strong and there were several aspects of the debate that time simply did not allow. The following key actions were agreed as a practical starting point to support diversity in our industry:
Let's look at career sponsorship, not just role mentoring.
Diversity is more than gender.
We need to keep having this debate, and keep promoting a positive image of our industry.
Let's promote more flexibility for men to help balance the demands of family and home life outside of work.
If you have the skills, nothing should be a barrier to a successful career in this industry.
Hydrock will be looking to host more events to discuss diversity throughout 2017. For more information contact Sarah Reaney: sarahreaney@hydrock.com / 01454 619533.