Back to News
Hydrock ranked 9th in Sunday Times 100 Best Companies study - highest in sector
26th Feb 2016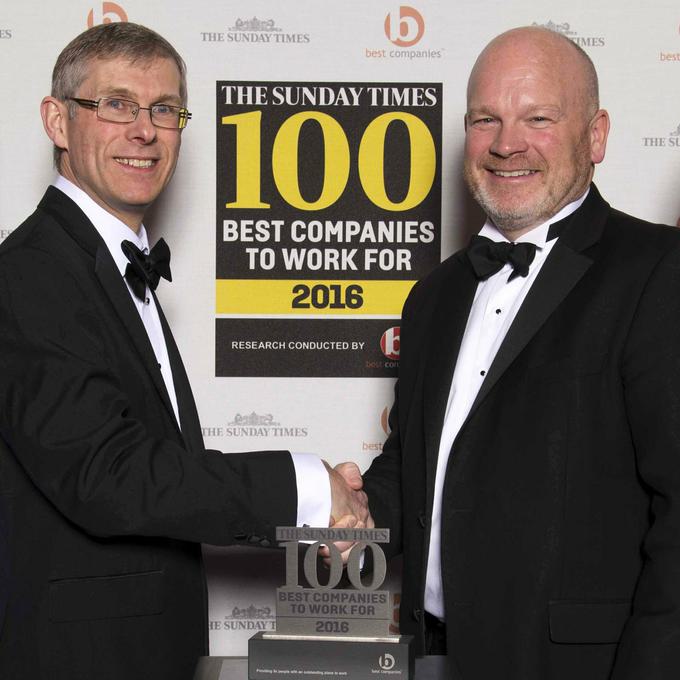 Hydrock is celebrating being ranked 9th in the 2016 Sunday Times 100 Best Companies to Work For, following the awards night in London on 25th February.
The annual ranking is widely acknowledged as the most rigorous and extensive research into employee engagement in the UK. All the scores and ratings that are assessed to compile the lists are based on employee opinions.
Over 900 organisations registered to take part in the four surveys, with Hydrock the highest ranked company in its sector for a second consecutive year, having come 13th in 2015.
Commenting on the achievement, Dr Brian McConnell, Hydrock's Managing Director, said: "We are thrilled to be ranked 9th in this highly prestigious listing. It's a recognition of the importance we attach to investing in the well-being and motivation of our most valuable asset – our people.
"People talk about work-life balance as if life is always good and work is always bad. At Hydrock we have a different approach. We want life to be good but we want work to be good as well. Our goal has been to create a company where work is a good part of life, where people feel valued and where they can progress and develop a fulfilling and rewarding career."
The citation on Hydrock by Best Companies states that 87% of employees are positive about the business, 85% of staff feel the experience they gain is of value for their future, and 91% of the workforce state that Brian McConnell commands the complete trust of the workforce.
The complete listing from Best Companies is available to view online.