Back to News
The Wave Bristol wins at the British Construction Industry Awards 2020
9th Nov 2020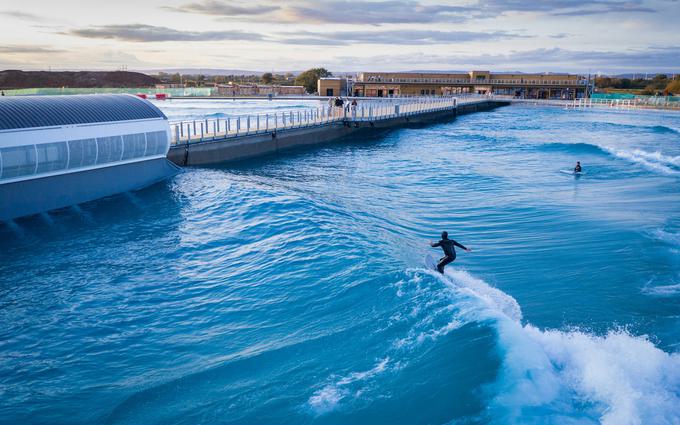 We're delighted to share that The Wave Bristol was crowned Cultural and Leisure Project of the Year at the British Construction Industry Awards on Thursday evening.
This prestigious national award is the result of a sterling effort from the project team, and means this is our second consecutive year as a BCIA winner, following the UKHO headquarters' big win of Commercial Property Project last year.
The BCIA judges commented: "This unique project is rooted to sustainability and accessibility at its core and will create a significant boost to the local economy. The attention to detail in reducing the carbon footprint and building in a dis-assembly process for the day that the structures are dismantled and re-used shows the level of thought that has gone into this scheme. Despite the challenges of social distancing - visitor numbers indicate that this is already a highly popular attraction." In fact, when lockdown was lifted earlier this year, The Wave attracted 30,000 visitors in August.
One of Hydrock's leads on the project, Associate Director Adam Anthony, dialled in to the virtual awards ceremony yesterday evening to accept the prize – live. During the online ceremony, the BBC's Justin Webb commented on how The Wave, like all of us, has to exist now in a very difficult environment, to which Adam reflected: "People are suffering with their wellbeing, and being out there in the middle of the lake, and surfing takes away the day-to-day stresses, and it was actually part of our ambition to create a place that people can go to and destress and chill out."
Hydrock has been involved in the story of The Wave since it was the crowdfunded vision of founder Nick Hounsfield in 2012. It has been a collective team effort brought to life by Nick and The Wave team, the architectural vision of Adam Parsons from APG Architecture, the technology of Wavegarden, the project management of Ward Williams, construction management from Andrew Scott and full multidisciplinary engineering services from teams here at Hydrock.
Hydrock's geotechnical team also played a key role in the Trafford Park Metrolink Line project, which won both Transport Project of the Year and the overall Project of the Year award. Our team contributed to the initial earthworks design and management, and were on-call throughout the build to witness and advise on contamination issues as they arose, along with gaining regulatory sign-off at the end of the project by writing and issuing a verification report.
The BCIA awards, supported by the Institution of Civil Engineers and the industry-leading publication, New Civil Engineer, recognise and reward excellence in project delivery and the delivery of outstanding outcomes for society. They also recognise and reward the work of the whole project team – client, architect, design engineer and contractor.
Massive congratulations once again to the project teams!