Back to News
Hydrock wins 'Employer of the Year' at the Cardiff Property Awards
11th Nov 2019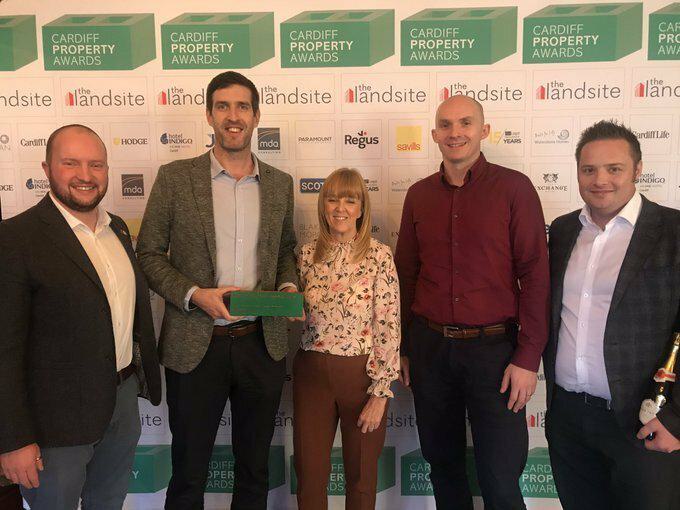 We're delighted to announce that Hydrock was awarded 'Employer of the Year' at the inaugural Cardiff Property Awards last week, beating strong competition to the title.
Some key members of our Cardiff team attended the awards ceremony last Friday afternoon, accepting the award on behalf of our 45-strong Cardiff office.
Reflecting our company-wide approach to wellbeing, including our annual Challenge Day, Healthy Living Bonus, consistent listings in the Sunday Times 100 Best Companies To Work For and our most recent addition, Wellbeing Champions, our Cardiff team is an exemplar in our office network for prioritising the health and wellbeing of staff and ensuring the office is a great place to work.
Our Cardiff team have embraced our overall culture around health and wellbeing, developing a strong team dynamic and rich social network beyond the office over the last four years. They have arranged events such as yoga, a 5-a-side football, a camping trip, quiz night, escape room challenge, paintballing, canyoning and lunchtime racing in a local park.
The team have also donated over 300 hours of help and support to local charities and good causes, including a beach clean and volunteering with a local homelessness charity.
Members of the Cardiff team supported our entry with testimonials. One said, "I have worked for Hydrock in the Cardiff office for nearly a year now and I have had nothing but good experiences! Hydrock as a company have created a place of work that is welcoming, enjoyable and flexible. They heavily invest in their staff and provide many opportunities outside the usual working day such as Hydrock Challenge Day and even stretching lessons in the park led by one of our own members of staff."
On winning the award, Daniel Beynon, Technical Director of Building Performance Engineering in Cardiff, said "We're absolutely thrilled to have won Employer of the Year. It's fantastic to see the growth and development of our hard-working team acknowledged in this way. Investing in the health and wellbeing of staff really is worth every penny."
The judges at the Cardiff Property Awards said "Hydrock has grown from one engineer to a team of 45 in four years in Cardiff. It stands out for its unique approach, strong support and achievable career pathways for its employees."
Congratulations to the team!
Pictured left to right with the award are: Matt Ace, Dan Beynon, Ann Jones, Neil Buckman and Gavin Rowe.