Back to News
The UKHO wins big at the British Council for Offices awards
25th Jun 2021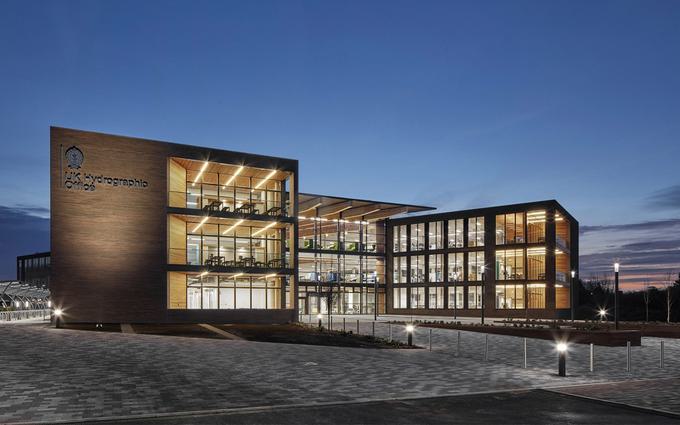 One of Hydrock's flagship projects has been crowned 'Best of the Best' by the biggest awards in the real estate sector, the British Council for Offices (BCO).
During the BCO award announcement, the UK Hydrographic Office headquarters picked up two awards: Corporate Workplace and Best of the Best, for our project partners AHR architects.
Working collaboratively alongside our project partners, AHR, main contractor, BAM, and cost consultant, Mace, our civils and structures and Building Performance Engineering teams played a huge role in helping bring this vision of collaborative and agile workspace into reality.
The UKHO is one of the world's leading marine geospatial information agencies. The design of their 11,000 sq m headquarters building in Taunton represented a cultural shift within their way of working, prioritising collaborative and agile workspaces for the 850 staff, including a gym, a restaurant and meeting spaces.
The UKHO's brief was to encourage a 'one team' approach, in contrast to their existing cellular buildings. The architectural and structural engineering design achieved this by arranging two wings either side of an 800 sq m central atrium with open balconies and bridges creating a physical and visual connection between all parts of the building resulting in an impressive sense of openness for such a large facility.
Chris Bowie-Hill, Director of Innovation Delivery, was part of the team that both won and worked on the project at the time, and he commented on this achievement: "Absolutely, a massive win. Probably an engineering career high for me personally. When we won the project in 2016 it felt like a huge moment to work on something quite transformational. It was a brilliant overall project team effort. The result is phenomenal, it really is an incredible building. It's the way it makes you feel when you walk in!"
The BCO's respected national awards programme recognises top quality office design and sets the standard for excellence across the office sector in the UK. The BCO judges noted that the UKHO is altogether high quality, sustainable and transformational, and a worthy winner of the 'Corporate Workplace' award and the title of 'Best of the Best'.
If you'd like to find out more about the project and our role, please contact Chris Bowie-Hill.
(Image courtesy of AHR.)