Back to News
Hydrock secures four Gold RoSPA awards for 2016
6th May 2016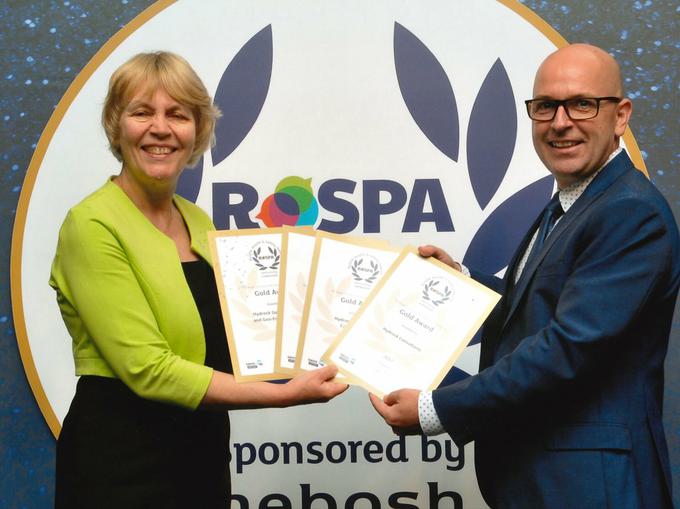 Hydrock's exceptional approach to health and safety has been recognised with four Gold awards in the prestigious annual scheme run by the Royal Society for the Prevention of Accidents (RoSPA).
Three of the awards relate to major land remediation projects undertaken by our Contracting business: the ongoing work at the site of the proposed new Hinkley Point C power station; our work at a former gasworks site in Watford for National Grid; and our work on the former GEC industrial manufacturing site at Rugby.
Hydrock's geo-technical and geo-environmental business was also recognised with a Gold award. This recognition is the first of its type for this business area and demonstrates that our operational standards and our approach to occupational health, health and safety, and wellbeing is industry leading and setting a benchmark for best practice.
Hydrock's Managing Director, Dr Brian McConnell said: "These awards recognise the exceptional commitment of all staff, from directors to trainees, towards the highest standards of health and safety on all projects across our business. This strong culture keeps our teams safe and enhances our reputation within the industry."
Julia Small, RoSPA's head of awards and events, said: "These awards recognise an organisation's commitment to maintaining an excellent health and safety record and raises the bar for other organisations to aspire to. We congratulate all our winners."
Hydrock's Health and Safety Manager, Jon Rayner said: "This is another fantastic achievement for the business and a real credit to the importance all staff place on health and safety in all situations which is illustrated by the fact that we have completed over 2.3 million man hours worked without a reportable accident as defined by RIDDOR."
This is the fourth consecutive year that Hydrock's approach to health and safety has been recognised with RoSPA Gold awards.
The RoSPA Awards is celebrating 60 years of presenting highly-regarded and sought after accolades to businesses and organisations which have shown commitment to accident and ill-health prevention.