Back to News
Construction starts on inland surfing destination, The Wave Bristol
4th Oct 2018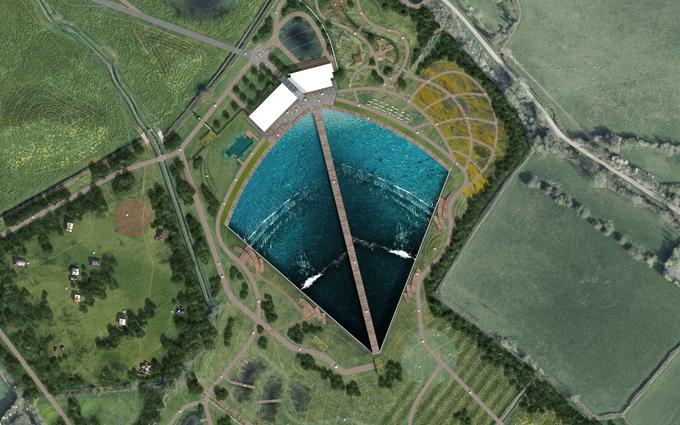 Construction has begun on a visionary inland surfing destination, The Wave Bristol. Hydrock has been involved in the project since 2012, providing a full complement of multidisciplinary engineering services.
In collaboration with Spanish technology partner, Wavegarden, the creation of Europe's first full-size Wavegarden Cove facility will use cutting-edge 'Cove' wave-making technology to provide up to 1,000 waves per hour, generating heights between 0.5m and 2m. The facility will include six different surfing zones offering waves of different size and power for up to 80 users at one time, encouraging people of all abilities to experience the joy of surfing.
From its crowdfunded beginnings, the project received financial backing from Jar Capital Ltd in April 2018 to fully fund the development. The facility will house a surfing lake, clubhouse, restaurant, camping grounds, woodland walks, and food and sensory gardens.
Following initial ground investigation and planning support services, Hydrock's full complement of multi-disciplinary services was engaged to deliver geotechnical, transportation, flood risk, civil and infrastructure, structural, mechanical and electrical engineering services. We are now taking the project through to construction stage.
Coordinated by Hydrock's Programme Delivery team, our multidisciplinary expertise has been instrumental in supporting the project from conception through to detailed design, including being appointed as Principal Designer.
In addition to the facility's clubhouse and pier, Hydrock's structural engineering team has designed the structural elements of the lake including a fibre reinforced slab, significant retaining walls and most notably a 100m viewing platform that extends into the lake for visitors and spectators.
Our building performance engineering (M&E) team designed external and internal services, IT and communications systems, along with many of our pre-planning services including lighting, energy and sustainability, acoustics, noise and air quality assessments. Our in-house utilities team overcame significant power supply issues, offering onsite power generation solutions.
A site-wide drainage strategy, including a gravity fall under-lake drainage blanket to remove hydrostatic pressure when the lake is empty, was designed by our civil and infrastructure team.
Two phases of ground investigation by our geotechnical team culminated in a Geotechnical Design Report and Earthworks Specification. General fill will be placed in landscaping areas with structural fill used behind the retaining walls and beneath the clubhouse.
The site will use a host of innovative designs to create a project that is as sustainable as possible.
The Wave is due to open in Summer 2019.
Check out work beginning on site here (video courtesy of The Wave Productions)

Image courtesy of LHC