Back to News
English National Ballet appoints Hydrock in London
15th Jun 2015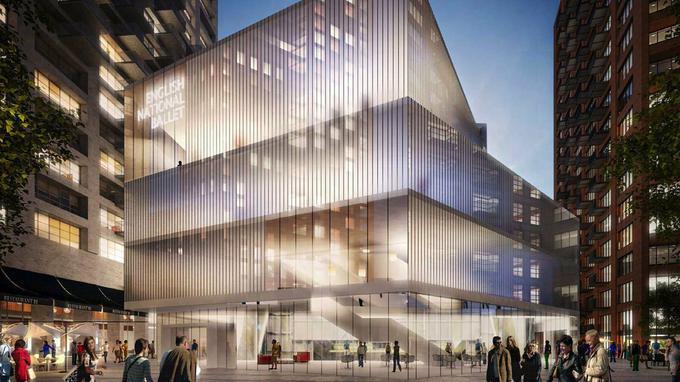 Hydrock has been appointed as the structural and M&E engineers for the fit out contract for a state-of-the-art new home for English National Ballet School in east London.
English National Ballet (ENB) will share the building with English National Ballet School (ENBS) at London City Island E14, a new neighbourhood from Eco World Ballymore close to Canning Town.
The two companies hope to move into the new premises in late 2018. The move will bring under one roof one of the world's leading ballet companies with a world renowned ballet school. It will create a centre that combines state-of-the-art training facilities, eight teaching and rehearsal studios including a unique production space unrivalled in the capital.
The new building is being designed by leading architects Glenn Howells Architects. It will also include digital infrastructure to allow both the School and the ENB to share work and engage with audiences around the UK and the world, a dedicated music room for the English National Ballet Philharmonic, and open spaces that will give the public access to the School's archives and encourage engagement with local communities.
Commenting on our appointment, Jon Bird, Structures Director at Hydrock said: "We are delighted to be part of the project team creating this prestigious new development for one of the country's most acclaimed ballet companies and most distinguished schools of learning in the world of performing arts."
ENB and English National Ballet School will jointly fund-raise for the costs of fitting the new space.
Caroline Thomson, Executive Director of English National Ballet said: "This move means we will have a new home with the kind of facilities one would expect from a world-class company, ensuring we can continue to deliver the kind of artistic achievements we have become synonymous with."
Delia Barker, Co-Director of English National Ballet School said: "It has been our ambition to make English National Ballet School the first choice for the next generation of international ballet dancers. This new dance hub will make us more competitive in attracting exceptional talent, both from home and abroad."
Founded in 1950 as London Festival Ballet, English National Ballet, has played a major role in the growth and history of ballet in the UK. Today, English National Ballet is renowned for taking world-class ballet to the widest possible audience through its national and international tour programme, offsite performances at festivals including Glastonbury and Latitude, its distinguished orchestra English National Ballet Philharmonic, and being a UK leader in creative learning and engagement practice and delivery, building innovative partnerships to deliver flagship programmes such as English National Ballet's Dance for Parkinson's. Under the artistic directorship of Tamara Rojo, English National Ballet has gained new acclaim as it introduces innovative new works to the Company's repertoire while continuing to honour and reinvigorate traditional ballet.
English National Ballet School is a world-renowned specialist training centre for aspiring and highly talented young ballet dancers aged 16 to 19. Students participate in a three-year programme, validated by Trinity College London, with 90% of graduates joining prestigious dance companies worldwide. Currently a third of the dancers at ENB are graduates of the School.
For over 20 years Hydrock has delivered award-winning engineering projects across a wide variety of sectors. Contact us today to find out how we can help your business.