Back to News
Hydrock identifies development constraints for south Bristol regen area
12th Dec 2018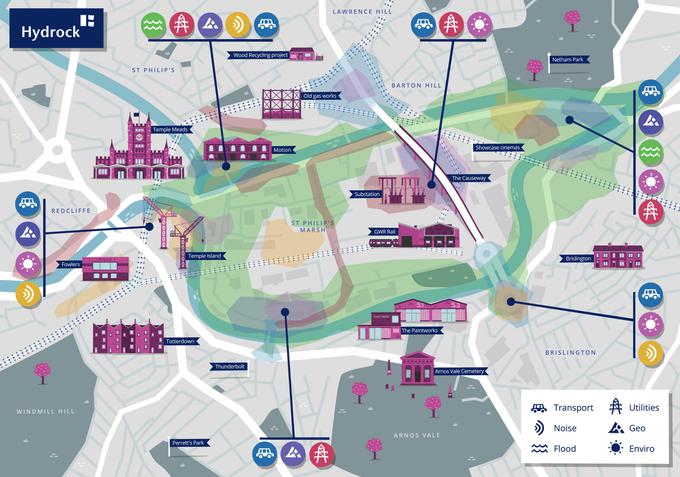 Hydrock's engineering teams in Bristol have produced a unique insight into the development constraints that need to be addressed to unlock the next exciting phase of regeneration in Bristol.
St Philip's Marsh is an industrial inner suburb of Bristol, bounded by the River Avon and the harbour feeder canal.
Situated behind Bristol Temple Meads railway station and the Temple Meads Enterprise Zone, and with rail lines and a bypass running through the site, it is currently one of Bristol's few remaining major city-centre opportunities for redevelopment, but with many notable challenges to overcome.
Commenting about the analysis undertaken by Hydrock's multi-disciplinary Bristol-based team, Board Director, Henry Easterbrook said: "As always with masterplan developments, it's having an awareness of the known unknowns that helps to make a major site viable.
"We've challenged our geotechnical and environmental specialists, our flood risk experts, and our leaders in transport, utilities and noise, to identify where the main development constraints are across this area of Bristol. It's a helpful sign-post to developers who are considering different parcels of the site for future development. Of course, each part of the site needs detailed examination, but going in with your eyes open to potential issues such as ground contamination, access, flood risk or noise constraints, makes initial funding discussions so much more meaningful."
If you would like to know more detail about the various constraints we're identifying across St Philip's arsh, we've got the data to back it up and we'd be happy to talk to you about it.