Back to News
Milestone reached on University of Bristol's Fry Building transformation
12th Dec 2017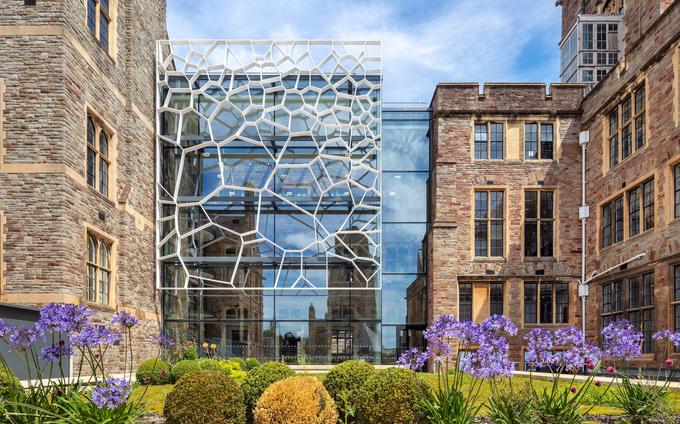 Works to transform the Grade II listed Fry Building into a state of the art new home for the University's School of Mathematics reached a significant milestone last month with the installation of an innovative Voronoi brise soleil screen.

The screen, an innovative blend of both public art and sun shade to the building's atrium, is a play on the mathematical Voronoi diagram - a fitting tribute to the building's occupants.

Working with specialist bespoke GRP manufacturers Designs and Display Structures Ltd, our structural engineering team developed a glass reinforced plastic (GRP) alternative design solution for the 10x13m Voronoi screen. The GRP solution is significantly lighter in weight than the original steelwork proposal, and was assembled on site before being lifted into position in a single operation.

Last month's topping-out ceremony, which followed the successful installation of the screen was attended by university staff and students, main contractor Balfour Beatty, architect Stride Treglown, and Hydrock engineers Keith Johnston, Chris Puttick and Peter Hall.

Keith Johnston, Hydrock's Project Director, said: "'This is an exciting and significant development in the renovation and extension of the University of Bristol's Grade II listed Fry Building, with visible changes to the building's external elevations starting to take place.

"The erection of the Voronoi screen, a mathematical equation, required precision engineering input by all involved. A total of 72 bolts and holes had to be aligned simultaneously whilst the glass reinforced plastic screen was suspended from a crane. This has been a huge technical achievement and we were delighted to see this complex lift completed successfully."

Hydrock is providing structural engineering and building services engineering design input to Balfour Beatty on the project. The new facility will significantly improve the student experience for those studying mathematics as the school is currently located across several sites. The building will be completed in time for the next academic year in September 2018.