Back to News
Hydrock supports feasibility and planning application on Grade II listed buildings in Leeds
8th Jun 2021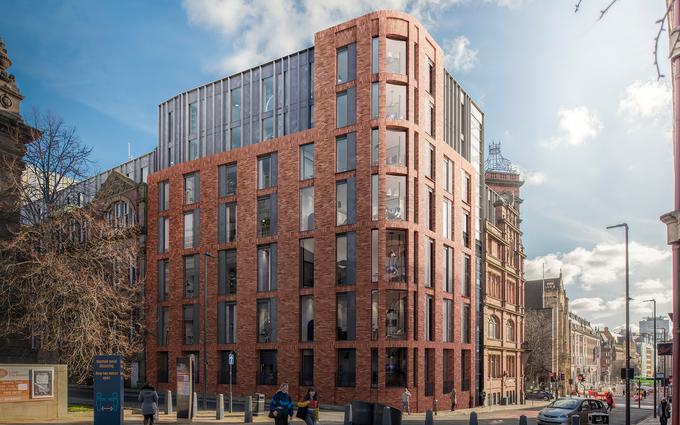 We've provided multi-disciplinary consultancy to McLaren Property on its proposals to convert and extend a pair of listed buildings in Leeds city centre, helping the developer to move forward with the submission of planning applications to convert them to high-quality student accommodation.
Planning permission is sought for the redevelopment and extension of the Leonardo Building and Thoresby House, as well as the construction of an 11-storey property on the existing car park.
Tom Gilman, Regional Managing Director at McLaren Property, said
"We are pleased to be working with Hydrock on this exciting redevelopment project in the heart of Leeds city centre. Hydrock's multi-disciplinary capability as well as their professional and knowledgeable approach has enabled us to work collaboratively and swiftly, ensuring we have met the key deadlines set-out at the beginning of the scheme."
Hydrock delivered mechanical, electrical and plumbing (MEP) engineering, structural engineering, energy and sustainability studies and fire engineering from RIBA Stage 1-2, leading up to the submission of the planning application.
John McElwee, Divisional Director at Hydrock, said:
"We're delighted to support one of our key clients on a development that, if it receives permission to move forward, will bring back two of the city's centre's most recognisable buildings and also make an outstanding contribution towards meeting the market need for more student accommodation."
Continuing our track-record of delivering a full suite of multi-disciplinary services to create exceptional places, communities and infrastructure, our role involved influencing the concept stage designs to ensure the creation of a high-performance development that enhances the built environment. This meant providing planning reports covering a number of building performance engineering specialisms, such as acoustics, air quality, daylight, coal mining and flood risk studies.
We also provided strategic MEP consultancy to address the sustainability and energy requirements set out within Leeds City Council's supplementary planning document which proposes to connect into Leeds PIPES, the council's joint-venture district heating network scheme. Re-using heat generated from the local Recycling and Energy Recovery Facility in Cross Green, the measures will provide enough low carbon, cost-effective heating to satisfy 100% of the developments hot water load.
Thoresby House, formerly known as Thoresby High School, was designed by Walter Samuel Braithwaite and dates back to 1889. Leonardo Building is a former print works building dating from 1900 and was extended in the 1990s. Both buildings were most recently used as council offices.
With the additional rooftop extension, the scheme will create a total of 476 student bedrooms comprising a mix of studio and cluster flats. Communal areas, including student hub facilities, would also be provided along with outdoor amenity space.
The site is in a sustainable location and the scheme promises to achieve a sensitive re-purposing of existing, but redundant, buildings that are recognised as being culturally significant in Leeds. This will include stripping back to the frame some previous, poorly executed additions and adding new build elements that sit comfortably with the listed buildings.
The wider project team involved to date includes Cartwright Pickard, Gardiner & Theobald and ID Planning.
Photo courtesy of Cartwright Pickard