Back to News
Tackling pollution on a protected Welsh beachfront nature reserve
15th May 2018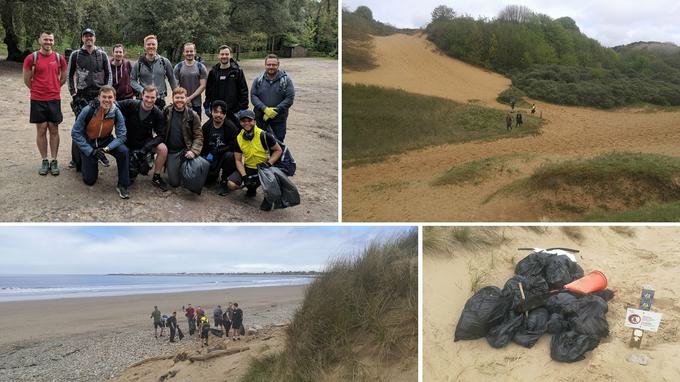 Hydrock's Cardiff-based BPE team recently spent a day away from the office cleaning up a vast area of the Merthyr Mawr Warren National Nature Reserve as part of the company's Day Off for Good Causes scheme.
As a haven for wildlife, fungi and plants the Merthyr Mawr Warren has been designated as an area of Special Scientific Interest and, as with all beachfronts around the UK, the reserve is prone to damaging effects of pollution.
With around 5000 items of litter per mile of beach in the UK and on average, 28 wet wipes found per mile of beach in the UK, our team of Hydrock engineers took on the challenge of cleaning up the protected beachfront. They covered a total distance of 21 miles and collected 52 bags of waste, plus larger items found on the beach.
Tom Davies, one of Hydrock's Cardiff-based mechanical engineers, organised the clean-up through Surfers Against Sewerage's Organise Your Own Beach Clean initiative which is also supported by Natural Resources Wales, Keep Wales Tidy and Bridgend Council.
Tom commented: "It was very enjoyable to spend time with colleagues while doing something worthwhile in a beautiful setting. Merthyr Mawr is a wonderful reserve enjoyed by many of us and tackling the clean-up gave us a real sense of accomplishment. It was a fantastic day."
Hydrock staff are all given one paid day off per year to support a good cause. This can be done as an individual or, as our Cardiff engineers chose to, as a team. The day off gives staff the opportunity to go out into the community and affect change, either locally or further afield. Most recently our Birmingham team carried out maintenance work at a farm facility in Solihull supporting people with learning disabilities to learn work-based skills, and our team in Hale, Cheshire, built a playground at an adventure farm in Altrincham for a charity providing activities for terminally ill, sick and disadvantaged children across the north-west.