Back to News
Hydrock appointed to £11m Royal Navy Training Facility, Cardiff
29th Jun 2017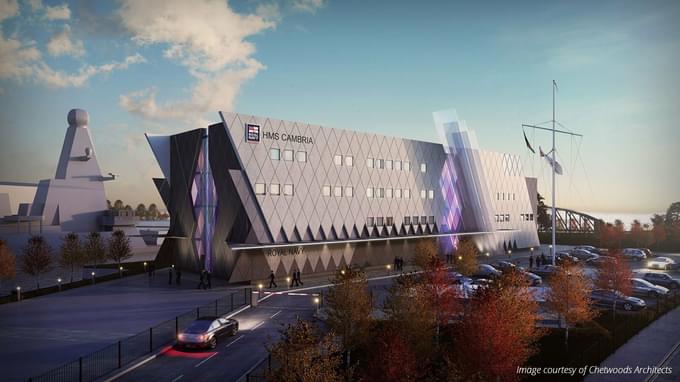 Hydrock has been appointed to provide engineering consultancy services on the new £11m training facility for the Royal Naval Reserve, Royal Marine Reserve, and the University Royal Naval Unit in Cardiff Bay.
Commissioned by Associated British Ports (ABP) and working as part of a wider design team with Chetwoods Architects, Hydrock is working on the structural, civil and transportation aspects of the project.
Having successfully received planning permission in June 2017, the scheme will be delivered by the Reserve Forces' & Cadets' Association for Wales in partnership with the Royal Navy and Associated British Ports.
The new build will provide state-of-the-art training and classroom suites, accommodation, administrative services, as well as social and fitness facilities. There will also be access to the Waterfront and docking facilities for visiting warships, and there will be shared accommodation facilities for three naval Units, the RNR Unit HMS Cambria, The Royal Marine Reserves Cardiff Detachment and the Wales URNU.
This is the second project Hydrock has been commissioned on in Cardiff Bay with ABP and Chetwoods; the other project is the proposed Dolffin Quay mixed-use regeneration development.
Images courtesy of Chetwoods Architects