Back to News
Hydrock's transportation team help secure planning on 400-bed student scheme in Bournemouth
28th Apr 2016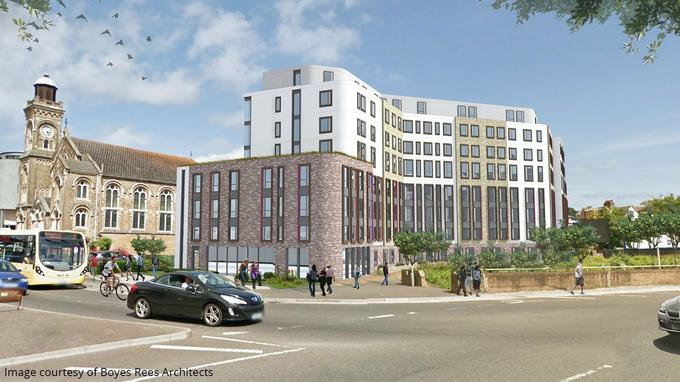 Hydrock's specialist Highways and Transportation team has helped secure planning approval for a new 400-bed accommodation scheme for students of the University of Bournemouth.
Working with architects, Boyes Rees, Hydrock was appointed by student accommodation provider Threesixty Developments as transport and acoustics consultant on this scheme in July 2015. The scheme is car-free and therefore required a strong emphasis on providing and demonstrating appropriate provision for pedestrians, cyclists and public transport users. In addition, liaison with local stakeholders identified concerns regarding traffic impacts relating to the beginning and end of term time and the associated drop-off/pick-up periods.
Our transportation team undertook negotiation and liaison with the local authority and produced a comprehensive Transport Assessment, Travel Plan and a Student Management Plan to assess and fully mitigate the transport/highway related impacts of the development proposal. This resulted in no transport objections being raised by the local planning and highway authorities.
Hydrock prepared a robust, commercially-focused and pragmatic suite of reports which met the requirements of the client, the architect and the local authority. Through evidenced discussion with the local authority, our team achieved a commercially attractive consent which will operate in a practical, sustainable and safe manner for all users of the highway network. Key points of detail included assessment of offsite impacts; demonstrating access by non-car modes of transport; proving servicing layouts; and negotiating an acceptable s106 package.
The development was granted planning consent by the planning committee of Bournemouth Borough Council in April 2016.