Back to News
Multi-disciplinary advice helps secure planning for landmark footbridge in Pontypridd
30th Oct 2018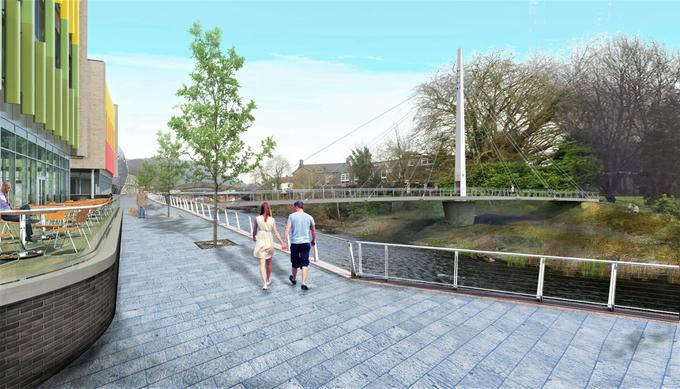 Hydrock's team in Cardiff has delivered feasibility studies and detailed engineering design to help secure planning permission for a £2m footbridge hailed as a major project within the regeneration of the south Wales valley town of Pontypridd.
The 70m cable-stayed crossing will link Pontypridd's new Taff Vale development with Ynysangharad War Memorial Park.
Acting for the local authority, Rhondda Cynon Taf, and in collaboration with the architects, DarntonB3, and project managers, Rhomco, our team is delivering structural engineering, civil engineering, flood risk consultancy, and lighting and utilities design. In addition, our geo-environmental team has been responsible for the site investigation and geotechnical design of the proposed abutment and temporary works.
Our work on the footbridge is in addition to our long-standing work with the local authority and DarntonB3 on the mixed-use, Taff Vale redevelopment. The Council's scheme is regenerating a former shopping precinct to provide 14,693 sq m of office space, community facilities, a new leisure and fitness centre, retail space and a striking gateway building that will include a library. The wider scheme has benefitted from £10m funding from the Welsh Government's Building for the Future programme, supported by the European Regional Development Fund.
Hydrock will take the footbridge through full design with construction scheduled for 2019. The footbridge will provide an important pedestrian link from the new Taff Vale development to the park and will increase accessibility to the National Lido of Wales, Lido Ponty.
Image courtesy of DarntonB3