Back to News
Hydrock helps mark historic bridge anniversary
5th Dec 2014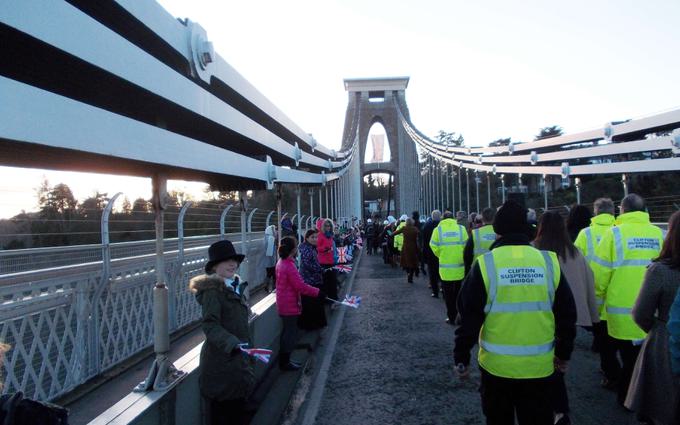 Hydrock engineers helped commemorate the 150th anniversary of Bristol's famous Clifton Suspension Bridge by joining a procession re-enacting the official opening.
The bridge, one of Britain's greatest engineering feats and an iconic landmark in the city, opened in 1864. A parade of Bristol dignitaries marched across the bridge to cannon fire and national anthem.
In a more modest procession, Hydrock's Structures Director Jerry King and Technical Director Roger Bareham, donned their hard hats and high-vis to cross the bridge alongside VIPs including descendants of those who worked on the bridge, both the Lord Lieutenant and Lord Mayor of Bristol, representatives from the Institution of Civil Engineers and local school children.
We were invited to join the historic procession as Hydrock teams have provided structural and civil engineering services for the new Suspension Bridge Visitor Centre, which was officially opened as part of the anniversary celebrations.
The 320sq m, two storey heritage and learning centre development, includes an exhibition space as well as a gift shop, offices and workshop buildings.
Jerry said: 'We are delighted to be involved with today's celebrations and continually expanding Hydrock's influence on the heritage of the City through our involvement with the new visitors' centre.'
The 150th anniversary celebrations were launched with a spectacular fireworks display on the bridge itself.