Back to News
2019 in film: an epic year for Hydrock
3rd Dec 2019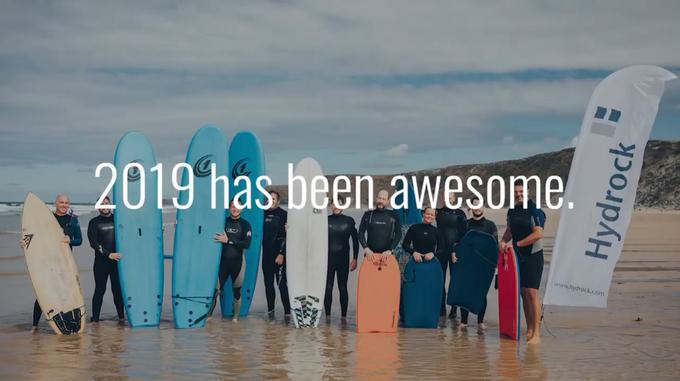 Well there you have it: we've had an amazing year at Hydrock. Our engineers have helped bring high-performing projects to life and unlocked complex sites, we've won multiple awards and taken even further strides toward being a great place to work. We've welcomed new starters to our national teams, and a new branch of the Hydrock family tree grew this year, in the form of our October acquisition of Hydrock MRB.
We were also nationally recognised for championing wellbeing in the workplace, winning the Health and Wellbeing Leader of the Year award at this year's NCE100 Awards and being placed in the Sunday Times Best 100 Companies for the fifth year running. In May we got the entire company together for our annual Challenge Day in the grounds of our head office just outside Bristol, which we filmed for the first time.
In the video above we've shone the spotlight on all those achievements, along with some of our key projects from 2019, including:
This year we established our Smart Energy team. Smart Energy is our way of helping clients navigate through the evolving energy landscape, exploring revenue opportunities and meeting decarbonisation targets. The new team, led by Josh Bullard, help select the right mix of energy technology to maximise the potential economic and environmental value of client's projects.
Bristol Bears Training Facility
Our multi-disciplinary engineering services supported the delivery of a world-class training facility for Bristol Bears, one of England's top professional rugby clubs. With an emphasis on energy efficiency and low carbon emissions, our structural and building services design has created a world-class facility that enables Bristol Bears to recruit the game's top talent, attracted by dedicated facilities.
The spectacular new home of English National Ballet was officially opened in September by the Mayor of London, Sadiq Khan. Working in collaboration with Glenn Howells Architects, Hydrock was delighted to provide M&E and structural engineering services on the new world-class, purpose-built facilities. The five-storey, 93,000 sq ft building is four times the size of their previous buildings.
Our structural engineers designed the steelwork for the redevelopment of New Covent Garden Market, a landmark multi-phased project. This is the largest redevelopment scheme within the Nine Elms regeneration area and secures the future of the UK's largest fruit, vegetable and flower market. We provided primary and secondary steel design and drawings across three distribution superstructure frames.
Hydrock's multi-disciplinary engineering capability was originally instrumental in supporting developer, X1 with their successful planning submission for a £210m mixed-use development in the South Bank area of Leeds. Now, our Manchester-based team is supporting The Guinness Partnership with phase 1 of the development to deliver over 300 residential units, providing M&E, energy and sustainability, fire engineering, acoustics and transport services.
We delivered the structural, civils and earthworks engineering for Unit A, Baytree Dunstable, a 266,947 sq ft logistics development close to the M1. It was branded the most sustainable warehouse in the UK in 2019 by Property Week magazine, and won Building Project of the Year at the BusinessGreen Leaders Awards in June 2019.
Hydrock's multi-disciplinary engineering services helped deliver a new 11,000 sq m headquarters building for the UKHO which prioritises both collaborative and agile workspace. The UKHO headquarters stormed 2019's award ceremonies, winning 'Commercial Property Project of the Year' at the national BCIA Awards in 2019, the RICS South West Commercial Property Award, RIBA South West Sustainability Award 2019, RIBA South West Award 2019 and Construction News Project of the Year £20m-£50m.
Hydrock's nuclear specialists continue to support EDF NNB with the next set of safety documentation, focussed on strategy development and authoring for the pre-commissioning safety report, ensuring robust interfaces with other disciplines across the Hinkley Point C project, to enable upcoming stages of critical delivery to proceed.
Hydrock's Cardiff team are providing multi-disciplinary services for the ongoing mixed-use Taff Vale redevelopment scheme in Pontypridd, south Wales. They also delivered feasibility studies and detailed engineering design to help secure planning permission for the development's £2m footbridge.
We supported John Sisk & Son with the detailed design to complete Smith's Yard, a 199-home PRS development for Manchester Life Development Company, in the Ancoats area. Our role included initial ground investigation; civil and structural engineering design for the whole development; 3D co-ordination on the below ground services; and a building services design assurance role.
Hydrock is providing civil and structural, geotechnical and geo-environmental engineering services for a new distribution centre and its associated infrastructure, for our client Tritax Symmetry, who pre-let the facility to the Co-operative Group Limited. The £35m scheme, just off the A1, features 661,000 sq ft of logistics space.
Our Birmingham-based team is delivering full multi-disciplinary engineering services on a four-acre residential development near Dagenham, Essex, for our client Inland Homes. The £65m project, now under construction, will see part of the former Ford manufacturing plant redeveloped to include 325 residential units and 1,600 sq m of commercial space.
We are supporting Bristol Airport's ongoing major redevelopment plan, enabling it to increase capacity as it manages more passengers than ever before. This year, our civil engineering design and ground investigation studies enabled the completion of the £5.3m Phase 1 works for the airport's eastern apron extension programme - part of the airport's continued wider development.
Now open to great acclaim, we provided a full range of multi-disciplinary engineering services on this visionary inland surfing destination that uses cutting-edge Wavegarden 'Cove' technology to provide up to 1,000 waves per hour. Coordinated by Hydrock's Programme Delivery team, our multi-disciplinary expertise was instrumental in supporting the project from conception through to detailed design, including being appointed as Principal Designer.
The Wave footage courtesy of GlobalShots.