Back to News
Hydrock supports lectures commemorating 'The Father of English Geology'
29th Jun 2015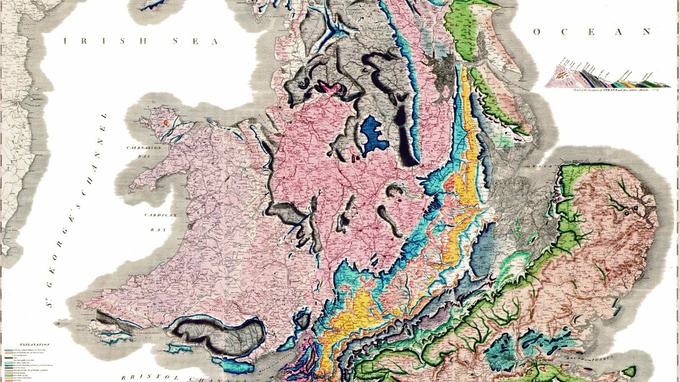 This year is the bicentenary of the publication of geologist William Smith's Geological Map of Britain, and Hydrock is proud to be sponsoring a series of commemorative lectures to celebrate his work.

In 1815 Smith published the first edition of his Geological Map of England and Wales which came to be known as 'The Map that Changed the World'. It made a pivotal contribution to the scientific and economic development of Britain and the world.

His map not only depicts the occurrence and chronology of rock layers across the whole of the country but also shows the location of raw materials such as iron ore, coal and clays and quite literally fuelled the Industrial Revolution. His map changed our understanding of landscapes and the ground beneath our feet.

Bristol University's School of Earth Sciences is hosting a series of free lectures from four high-profile speakers throughout October:
October 7: Professor Iain Stewart – Underground Britain: the story of what's under our feet
October 14: Simon Winchester – The Map That Changed the World: William Smith and the Birth of Modern Geology
October 21: Professor John Grotzinger – Geological Mapping of Mars with Orbiters and the Curiosity Rover
October 28: Professor Richard Fortey – William Smith, fossils and the British Landscape.
Hydrock's founder and Managing Director, Dr Brian McConnell, is a former graduate of Bristol University's Department of Earth Sciences, along with several other Hydrock directors, and is delighted to be involved with the commemorative events.

"The map that William Smith produced is one of the cornerstones of our modern civilisation. The work that he did to produce the map was incredible and his desire to understand the geological environment is as relevant today as it was then. The lectures coincide with our 20th birthday as a company and we are delighted to be involved in this hugely important celebration. While we could never dream of replicating his research, we like to think that in a small way we are ensuring that his work remains highly valued by our engineers of today as well as the future," said Brian.

In addition to the lectures, The School of Earth Sciences is planning to redisplay its very own restored, original William Smith map in a publicly accessible area of the iconic Wills Memorial Building at Bristol University, as well as some of Smith's original atlases and maps.

To register for free tickets to the lectures, visit http://www.bristol.ac.uk/earthsciences/public-engagement/williamsmith/lectures/